Flows of the Llano still strong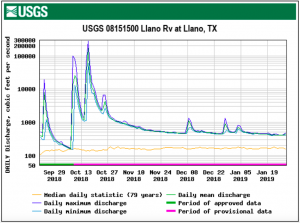 The Llano River continues to flow strongly past the gage in Llano; the latest reading is 442 cfs, well above the median flow of 157 cfs. Over the three months since last fall's rains, the Llano has flowed at a 3-month average of 4,111 cfs, greater than the previous recorded 3-month average of 3,137 in late 2000. The next highest 3-month average i 2,591 cfs in 1992, then 2,315 cfs during the drought breaker in 1957.
Average flow for the one-month period between September 22 and October 22, 2018 (above) was 10,780 cfs, the highest recorded average monthly flow for Llano River at Llano. Monthly flows for November 2000 were 7,149 cfs, followed by February 1992 at 3,754. May of 1957 (3,350 cfs) was the 6th highest monthly average.
Just released: Due to delays associated with the shutdown, USGS just published discharge measurements made last December at 700 Springs. The flow is 24.4 cfs, the highest recorded since 2008, following a very wet 2007.
This article was taken from the Llano River Watershed Alliance Newsletter, the Watershed Week in Review. Access this newsletter and past editions here. 
For more information – or to subscribe to the Watershed Week in Review – check out the Llano River Watershed Alliance website here.