Voting has ended for the 2019 Photo Contest. Thank you for your submissions!
The people have spoken and they have chosen an image titled "Pure Texas" as the People's Choice Honoree. This image was taken by Edgar Tovar in Medina County.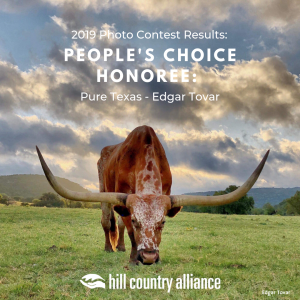 Stay tuned for more updates in the coming months on our winners.
2019 Hill Country Photo Contest – "The Hill Country: Capturing the Color and Character of the Heart of Texas" 
Call for entries runs March 15 – May 31 
The Texas Hill Country is a unique region of pristine springs, sprawling landscapes, diverse wildlife, star-filled skies, multi-generational land stewards, historic towns, and hidden oases. With a rapidly growing population and increasing development coming into the region, many of these special qualities are at risk of being lost forever. For the 13th annual photography contest, HCA asks photographers to take out their cameras and focus on The Hill Country: Capturing the Color and Character of the Heart of Texas.
We are looking for photography that captures the vibrant beauty of our native landscapes, wildlife, and water resources of the Texas Hill Country. Beyond those natural and cultural features, we're also interested in the people of this special part of Texas. Every county, city, and town has its own splash of colorful spirit and as a result, we each have our own favorite piece of this region. Through the photo contest, we're asking photographers to share images of the Hill Country they would want to capture and protect forever.
The Photo Contest is open from March 15 through May 31, 2019. Photographers of all ages and skill levels, from amateurs to professionals, are invited to participate. Winners will receive cash prizes and their photos will appear in HCA's 2020 Calendar.
HCA's annual Texas Hill Country Calendar features stunning photography from each year's photo contest. The purpose of the calendar is to highlight the beauty of the region while providing an informative resource on Hill Country conservation. HCA hopes their calendar will inspire people to learn more and become involved in the issues important to keeping the natural resources of this unique region intact.
Entering is easy! Photos can be submitted online in just a few minutes. See below for details.
Winning photos and Prizes
Winners:
13 winners will appear in HCA's 2020 Texas Hill Country Calendar.  Other photos will be featured throughout the calendar in cameo appearances.  In addition to a full page photo feature, winners will receive a cash prize.
Grand Prize:    $300
First Prize:       $200
Second Prize:  $150
Third Prize:     $100
All other calendar page winners:  $50
People's Choice Honoree:
This year's photo contest will provide an opportunity for the public to view the photos that have been entered into the photo contest and vote for their favorite. The photo receiving the highest number of votes will be named the People's Choice Honoree. The People's Choice recipient will receive a $100 prize and a feature in HCA's 2020 Texas Hill Country Calendar.
Enter your photos
Important tips:
• Read the Terms and Conditions carefully to make sure your photos qualify before uploading your photos
• Only color photographs will be eligible
• Only photos with horizontal/landscape layout will be eligible
• Do not add text (including names and dates), borders or frames
• Photos that have been digitally altered beyond standard optimization will be disqualified (see Terms and Conditions for details)
• Only photographs taken in the 17-county Hill Country region will qualify – see map
• After uploading your photos, go to the "your images" tab and click on each image to make sure it uploaded properly. If you are not satisfied with a photo you may delete your photo and try again. Be aware any votes for your photo will be lost upon deleting.
•  The HCA photo contest and calendar are all about conservation! Focus on entering photos that feature native plants and wildlife, starry skies, Texas heritage, and examples of people enjoying our healthy riparian areas, waterways, landscapes and land stewardship practices!