Land, Water, Sky, and Natural Infrastructure Plan

A Natural Infrastructure Plan for the Hill Country
The Texas Hill Country Conservation Network is proud to be working with Land & Water Connections Consulting, Geo5 Designs, and Asakura Robinson to develop a Hill Country Land, Water, Sky, and Natural Infrastructure Plan to help guide our work in addressing the complex threats facing the region. With this project, the Network will be creating a vision for growth that protects our region's health and resilience. We aim to:
Collaboratively define the future of regional conservation and natural infrastructure projects by identifying shared priorities.

Develop data-driven solutions and priorities informed by the best available science and equity-driven stakeholder engagement.

Create an inspirational catalyst for increased investment. 

 

 
Conservation Goals for the project include protecting water quality, preserving water quantity (groundwater, aquifers, springs,  and surface water), providing wildlife habitat and connectivity, expanding access to outdoor recreation and nature, increasing climate resilience, and preserving rural working lands. 
Public Engagement – Get Involved
In order to take a holistic view of land, water, sky, and natural infrastructure in the Hill Country, we are incorporating feedback from partners with expertise in land conservation and stewardship, water protection, recreation access, public health, equity, economic development (urban and rural), policy, finance, and built infrastructure. Through engagement opportunities including an Advisory Team, partner and community surveys, in-person events, focus groups, and interviews, we will ensure feedback is geographically and culturally representative of the region.  
Virtual Open House Recording
The Texas Hill Country Conservation Network hosted a virtual open house about the Hill Country Land, Water, Sky, and Natural Infrastructure Plan on November 16 at 6:30 PM CST. This open house was an opportunity for interested members of the community to learn more about the results of work so far and share feedback and comments on results such as preliminary mapping. Recordings are available in both English and Spanish. Slides from the presentation are available in English and Spanish as well.
What is Natural Infrastructure?
Natural infrastructure is the woodlands and forests, grasslands, wetlands, rangeland, and other natural systems and features that enhance water quality, recharge aquifers, protect drinking water, support wildlife, prevent soil erosion, clean the air, reduce flood risk, and minimize the impacts of extreme weather. In cities and towns, urban forests, rain gardens, and open space in parks also represent natural infrastructure. Protecting, restoring, and enhancing natural infrastructure provides critical and cost-effective environmental, health, social, and economic benefits.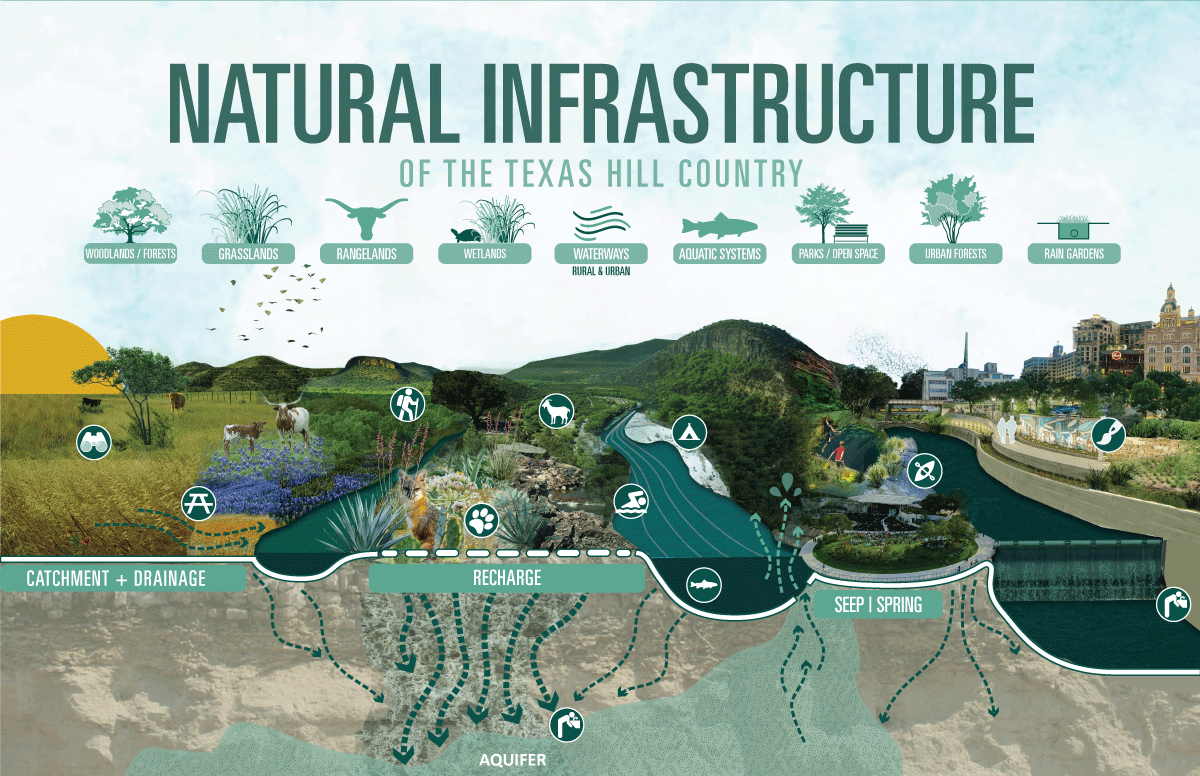 Timeline
Preliminary mapping for the Plan is beginning this spring, as well as wider community engagement. Over the summer we will be refining our work through more in-depth mapping and additional outreach through focus groups and interviews. Final mapping and priority-setting and open houses will occur in the fall, culminating in a final report with maps and recommended paths for near- and long-term conservation goals by the end of the year. 
Stay in Touch
Interested in joining an upcoming open house to review the draft plan? Sign up to receive an invite to an event this fall.
State of the Hill Country: 8 Conservation and Growth Metrics for a Region at a Crossroads
This project defines and calculates eight metrics for tracking trends related to changes in the natural resources of the Texas Hill Country. Dozens of organizations — nonprofits, government agencies, academic institutions and aligned private businesses — endeavor to protect the land, water and sky of this unique region. The metrics defined here will support these entities as they work individually and collectively through the Network to both tell the story of the need for conservation and preserve the natural resources and heritage of the Texas Hill Country.
– Texas Hill Country Conservation Network