2016 Rain Barrel Art Auction
Artists from around the Hill Country will donate their time and talent decorating beautiful rain barrels to help raise awareness about rainwater harvesting and the 2016 Rainwater Revival. These unique custom painted rain barrels will be auctioned off online leading up to the November 5th Rainwater Revival.
All proceeds from this auction will fund grants for local schools to be used for rainwater harvesting projects and water conservation education. Since the Rainwater Revival began in 2010, 19 schools throughout the Hill Country have benefited from grants received through HCA's Rainwater Revival School Grant Program.
Stay tuned for more information on the 2016 Rain Barrel Auction…
---
Thank you to the artists of the 2015 Rain Barrel Auction: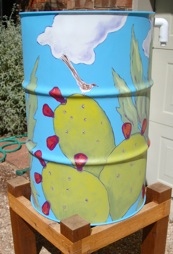 Debbie Carroll
www.debbiecarrolldesigns.com
Listen to the Mockingbird
I chose to depict native Texas Botanicals I love to paint and included one of my favorite birds, the Mockingbird. Not only do we humans utilize our water resources, be we also need to preserve, conserve and protect these resources for our wildlife population.
---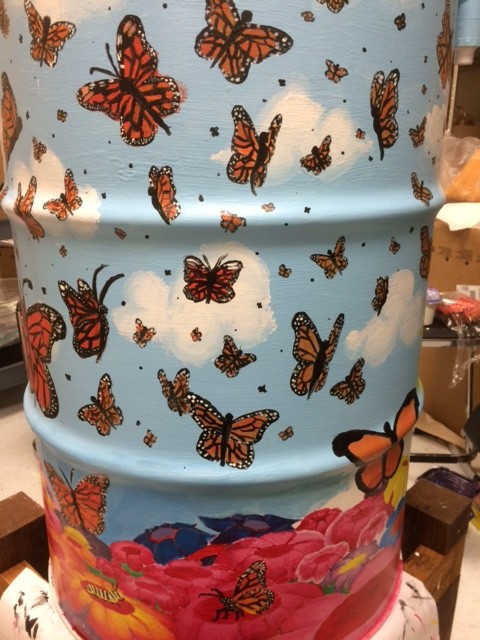 National Art Honors Society Students –
Dripping Springs High School Chapter
http://www.dsisd.txed.net/
Flight of the Monarch
A student's years in high school greatly resemble the metamorphosis of the butterfly.  Breaking from its adolescent chrysalis, the monarch caterpillar slowly feeds itself to grow bigger and bigger.  Our vision concerning the rain barrel was to reflect this metamorphosis and to commemorate the flight of the monarch.
About the Monarch Butterfly:
Each fall the Monarch butterfly travels through the Hill Country on its way to the winter home in the Sierra Madre Mountains of Mexico. The Monarch swarm of color and beauty of this rain barrel remind us that the species is in danger of losing its habitat and food source. Plant milkweed! Collect rainwater!
---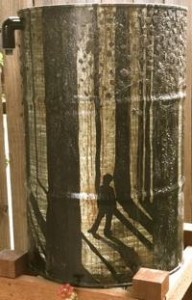 Christopher Barnett
www.muralsbychristopher.com
Portal
Inspired by the children's book Minder by J. Kabay, mural artist Chris Barnett used paint, charcoal, brass, rust and ash to depict a hidden forest.  This mysterious barrel was purchased at the Rainwater Revival auction in 2013 by an HCA board member and is being donated back to the auction in hopes it will be an art barrel that keeps on giving. The barrel has been living in the City office of Dripping Springs to promote the Rainwater Revival and has yet to be used to capture rain. Please give it a chance!
---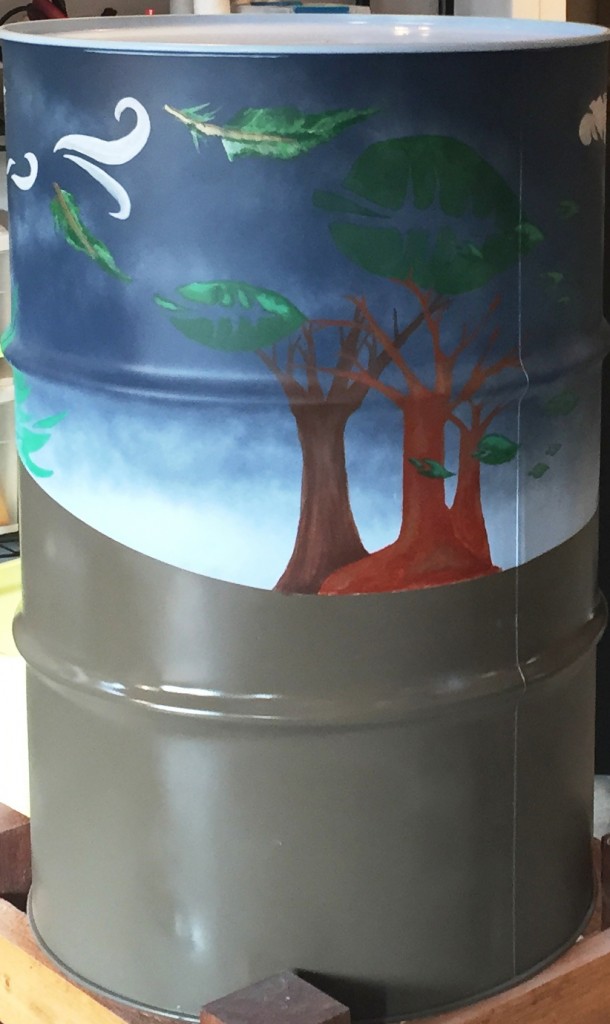 Stephen Sumrall-Orsak
www.sumrallorsak.com
Cross Section
"Cross-Section" is a view into the heart of the reasons we collect rainwater. A project in support of Hill Country Alliance's annual Rainwater Revival, "Cross-Section" reminds us of the journey that rainwater takes when it isn't landing on a roof or parking lot.
As our rural areas have developed and continue to develop, pervious surfaces are decreased and rainwater, a vital resource, is treated as a problem to be evacuated, instead of a live-sustaining resource. The greater the efficiency of moving storm water from first contact to riverbed, the greater the danger to those downstream whose systems cannot presuppose they impact of weather cycles, developmental changes to our landscapes and changes in our climate. Reflecting on the current state of our society in dealing with rainwater and storm water runoff, "Cross-Section" attempts to remind us that managing water locally is a simple concept and returns water sources to the very place that most Texans first seek it, in the ground.
Collect, use, and return rainwater into our aquifer, it's a simple concept, and the style of the work is reflective of its subject's simplicity.
---
View the Rain Barrel Art from previous years: