Southwestern Travis County Groundwater Conservation District
Local and legislative efforts to create a system to protect Trinity Aquifer water wells and springs in Western Travis County is a success. Thanks to the hard work of area political leaders at the county and legislative levels, a new groundwater conservation district (GCD) in western Travis County will complete the state of Texas's requirement of GCDs across the Hill Country's Trinity Aquifer. Local voting on November 5th, 2019 resulted in a 75% margin of victory at the polls and new Directors were elected.
            "Protecting our water supplies is a bi-partisan issue that affects us all."                                                                     Former State Representative Paul Workman (District 47)
Key Dates:
Board Meetings are on the second Wednesday of the month at the Old Bee Cave Schoolhouse at 10am sharp. See Official District website for Board meeting details.
March 7th 6-9pm 2018.  Wescave Preserve: Southwestern Travis County GCD panel discussion and appointed Director's Meet and Greet. Learn more here
October 15th 6-8 pm 2019.  Westcave Preserve (24814 Hamilton Pool Rd, Round Mountain, TX 78663) will host an informational session on the District. Learn more here
October 17th 5:30-7:30 2019. Hill Country Alliance presents: Sorellina Pizza (23526 TX-71, Spicewood, TX 78669) Speaker Happy Hour. No Water, No Beer: What a Groundwater Conservation District Means for Western Travis County. Learn more here.
November 5th. District Confirmation and Directors Election (Original May election postponed by Temporary Board of Directors) This change of election date was authorized in legislation by the 86th Legislature in 2019.
Helpful Documents:
Southwestern Travis County Groundwater Conservation District Myths & Truths Paper HERE
Southwestern Travis County Groundwater Conservation District Fact Sheet HERE
Key Facts about the Southwestern Travis County GCD:
The District's legislation protects private property rights:
NO financial or regulatory impact to citizens of Lakeway, Hills of Lakeway, Bee Cave, or West Lake Hills, who are customers of surface-water based utilities
NO groundwater production fees or metering on the large majority of private domestic wells[1] or livestock and poultry wells[2]
NO ad-valorem property taxation
NO powers of eminent domain
The District was not designed to adversely impact future development
[1] Exempt domestic wells are defined as those that can produce at a rate of no more than 10,000 gallons per day (the average Travis County private well household of 4 uses less than 1,000 gallons per day).[2] Exempt livestock and poultry wells are defined as those that can produce no more than 25,000 gallons per day and are on properties larger than 10 acres.
The District will benefit local well owners by:
Protecting well water from contamination from septic systems by enforcing well setback requirements
Protecting well water quality by ensuring that wells are drilled and cased in a professional manner in accordance with state law and local hydrogeologic conditions
Providing property owners with information about the most prolific layer of the aquifer
Providing property owners information about water quality and groundwater yields in their well
Requiring permits for large groundwater users that assure no negative impacts from major groundwater withdrawals on other wells in the area
Gathering data on aquifer contribution to stream-flow and lake levels
Local responsibility and control of the aquifer's future viability
Local representation at the Hill Country Trinity Aquifer-wide planning group
Additional Information:
The Trinity aquifer is the sole source of water for many households in western Travis County and the Hill Country. Booming population growth has strained the aquifer's ability to produce good quality water in sufficient volume to keep up with demand. A result has been dried up water wells and diminished spring-flows that feed our creeks, rivers, and lakes.
Former State Representative Paul Workman, Representative Vikki Goodwin, Senator Dawn Buckingham, County Commissioner Gerald Daugherty and Travis County Judge Sarah Eckhardt, cooperated across party lines to reduce the pressure on the aquifer by creating a non-taxed based district that will protect the groundwater resources in the GCD in accordance with State law and locally established objectives.
While the GCD is crafted to protect the aquifer's majority of users, its enabling legislation was written to protect most private domestic and livestock wells by prohibiting production fees, taxes, or meters on those wells. The new district cannot seize land via eminent domain as most MUDs and WCIDs may.
Citizens of Lakeway/Hills of Lakeway, Bee Cave, and West Lake are on surface water and will not be affected or financially impacted by the new district. The Board of Directors is prohibited from assessing taxes, and district permitting and metering requirements will not apply to exempt well owners though they may be assessed modest administrative fees. The regulated community will be a small set of non-exempt users who pump much larger amounts of groundwater from the Trinity Aquifer, including irrigated golf courses; commercial and industrial users; and MUDs, WCIDs, and public water suppliers on groundwater.
The district's temporary Board of Directors was hand-picked by Senator Dawn Buckingham, Representative Paul Workman, Commissioner Gerald Daugherty, and Travis County Judge Sarah Eckhardt — and guided an election process that confirmed the district and elected a Board of Directors. That election was held on November 5th with 75% approval. Local voters elected one director each from the cities of West Lake Hills, Bee Cave, and Lakeway; and four rural at-large directors who beneficially use groundwater.
The state's rulebook for the management of groundwater is Chapter 36 of the Texas Water Code. The Legislature recognizes that locally controlled GCDs are the best entities to protect the natural resource and to gather science for effective management. HB-4345 of the 85th Legislature contains the language that authorizes the limited power of the new GCD and no management or regulatory rules may be written that exceed the powers written into that statute.
Officials from the existing GCDs that surround the new district are lending experience and guidance in its formation. They helped guide the election process, provided existing scientific data to help guide the management rule making process, and lent support in creating an administratively functional district.
At the March 2nd, 2019 Board meeting, the Board voted (5-0 with 2 absences) to postpone the election due to the financial liability that would be imposed on the yet solvent district by the high election costs (~ $250,000) calculated by Travis County. Travis County Commissioner's Court offered to loan the District those funds, but the Board felt it fiscally imprudent to assume such a loan without a current revenue stream. The election was postponed until November 2019.
On April 4, 2018, the House Natural Resources Chair Representative Lyle Larson submitted a request for opinion to the Attorney General's office on behalf of Representative Paul Workman. That request will act to clarify some points of question regarding enabling legislation and the authority of the District's appointed Board of Directors.  Those four questions are as follows:
What legal authorities allow the initial-appointed temporary Directors of the Southwestern Travis County Groundwater Conservation District (SWTCGCD) ("District") to cancel the May 2018 election of permanent Directors and voter confirmation of the District?
Does the affirmative action of the initial-appointed Directors to cancel the May 2018 election of permanent Directors and voter confirmation of the District either contemporaneously or subsequently terminate all authorities of the initial-appointed temporary Directors?
May an official authorized to appoint a temporary Director, who fulfilled such
appointment, withdraw their appointment; the result of withdrawing an appointment
nullifying the appointee as a temporary Director to the Southwestern Travis County
Groundwater Conservation District (SWTCGCD)?
What legal authorities do the initial-appointed temporary Directors have?
Or simply:
May the appointed Directors legally cancel elections?
Does that cancellation void the Director's legal authorities?
May a sponsor of those Directors withdraw his/her appointment?
What legal authorities do the current Directors have?
Attorney General Ken Paxton is expected to rule on these questions in the upcoming months. Until then, the SwTGCD Board of Directors appears to be in a state of legal uncertainty and will proceed with District business as it is able.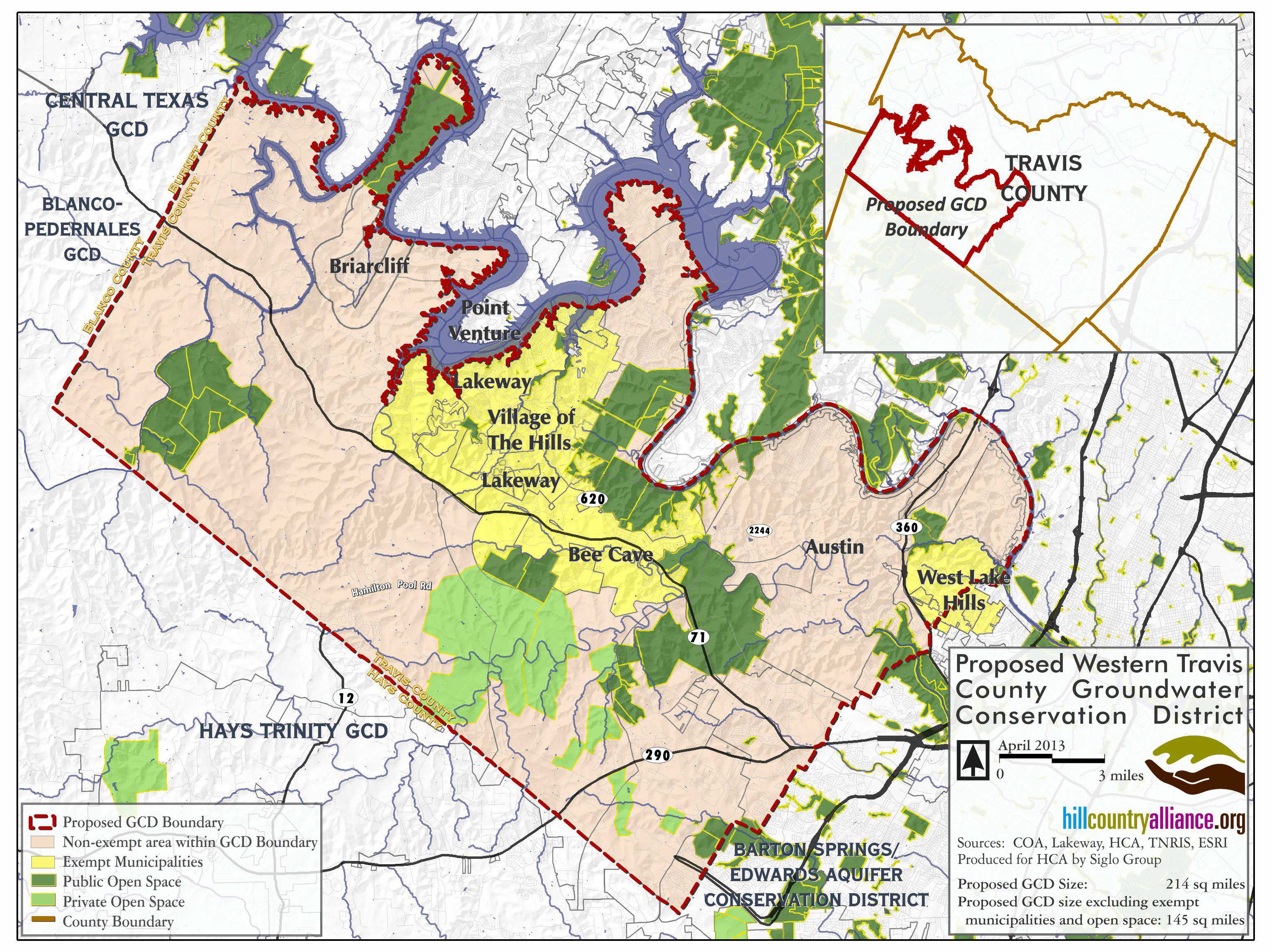 History:
The nascent district is the result of many years of effort to create a reliable custodian of the aquifer. The initial report recommending the creation of a district was initiated in 1990 by the Texas Water Commission.  That report recognized that population growth across the Hill Country would deplete the aquifer unless conservation measures were implemented.  Falling aquifer levels led to 2001's Senate Bill 2 which mandated that threatened counties that had not created districts do so immediately. Further unsuccessful attempts in 2007 and 2009 to legislate a western Travis County GCD prompted the Texas Commission on Environmental Quality to deliver a 2010 report recommending that the Commissioners create a multi-county GCD by agency rule. Several other bills authorizing a district failed in the legislature until the final passage of 2017's successful HB-4345.
That bill's success was due in large part to local recognition that rapidly declining aquifer levels were threatening water wells and springs, and if unabated would threaten surface water sources and harm the region's economic viability.
The stakeholders in Travis County including elected officials, municipal administrators, and local residents collaborated to create guidelines for a new GCD that respects private property rights while protecting the source of many people's only water supply. Those guidelines were incorporated into HB-4345 and are now reflected in statute.
The new District will allow for local input into the aquifer's long-range planning processes in which the level of the local aquifer is assured.
Official Southwestern Travis County GCD Website
News:
March 4, 2018. Community Impact Newspaper: Southwestern Travis County Groundwater Conservation District cancels confirmation and board elections, citing funding concerns
February 28, 2018. Community Impact Newspaper: Commissioners supply election funding, assuring Southwestern Travis County Groundwater Conservation District can appear on May ballot
February 28, 2018. Austin American Statesman: County considers groundwater election
February 20, 2018. Community Impact Newspaper: Commissioners debate the creation and funding of a groundwater conservation district in southwest Travis County
Supplemental Documents:
HCA's printable Southwestern Travis County GCD FactSheet
A comprehensive Fact Sheet from HB 4345's sponsor — Representative Paul Workman:
A brief on the history of the Southwestern Travis County GCD creation:
Maps:
Sw Travis County GCD Director's Map
Sw Travis County of Drilled Wells
Hill Country Trinity Aquifer Map
Texas Groundwater Conservation District map
Hill Country Groundwater Vulnerability Map