15 Years of Wonderful Board Members!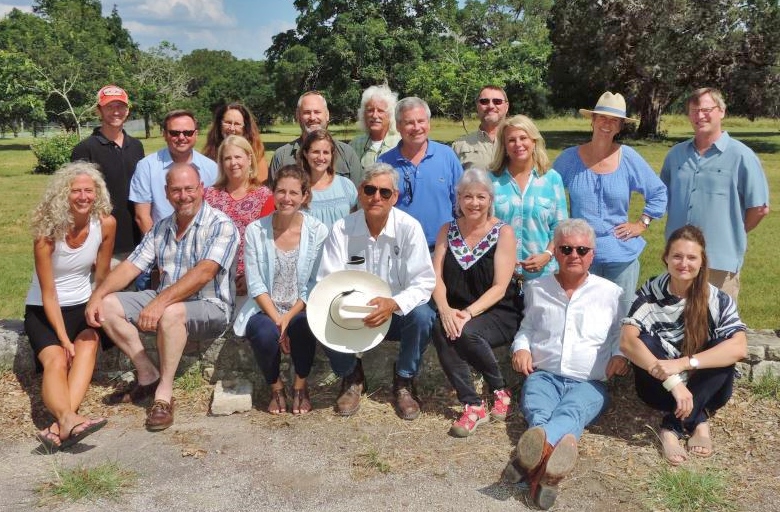 Our nonprofit has been lucky to have an incredible, dynamic team over the past 15 years. Click through the accordion tabs below to find out more about some of HCA's former board members.
Disclaimer
Keep in mind, this page is NOT frequently updated – information may have become outdated over time and as our former board members move on to new pursuits.
If you are a former board member and see something you would like for us to update, email leah@hillcountryalliance.org.
Ann Newman
Carolyn Chipman Evans
Carolyn Chipman Evans is the founder and executive director of the Cibolo Nature Center & Farm in Boerne, Texas. For 25 years, she has worked to preserve a wild stretch of the Cibolo Creek in Boerne and develop a model nature center. She created The Friends of the Cibolo Wilderness, a non-profit organization dedicated to the conservation of natural resources through education and stewardship.
Carolyn grew up in San Antonio, but visited the family ranch (the Herff Ranch) in Boerne as often as possible. At 19, she moved to the ranch for good and has never wanted to leave. Not once. On the ranch, she and her husband Brent Evans raised a son, Jonah, currently TPWD Diversity Biologist for the Trans Pecos, and a daughter, Laurel, a writer and graphic designer living in Milan, Italy. Carolyn and Brent now have three granddaughters who visit the ranch as often as possible.
As the founding director, Carolyn has worn all the hats involved in nature center development. She has worked as a naturalist, volunteer coordinator, educator, public relations coordinator, program designer, newsletter editor, display designer, site designer, construction honcho, community change agent and leader, development director, and executive director.
Carolyn has served on the TPWD Trails Advisory Board, Association on of? Nature Center Administrators Board of Directors, The Texas Lyceum, TPWD Texas Partnership for Children in Nature Advisory Board, and past president and current board member of Hill Country Alliance.
Carolyn was also instrumental in starting a land trust organization in 1998, the Cibolo Conservancy, which now holds conservation easements on more than 12,000 acres in the Hill Country. Currently, Carolyn's conservation focus includes preserving additional land in the Upper Cibolo Watershed, and developing the historic 60-acre Herff Farm, recently acquired by the Cibolo Nature Center, to further connect the Hill Country community to our past, present and future through nature.
For close to ten years, Carolyn worked behind the scenes on the 3K Initiative, to inform and encourage TPWD to prepare to accept a gift of 3,500 acres of land in Kendall County. It is now the Kronkosky State Natural Area.
She has worked to build community by involving The Nature Conservancy, Texas Parks and Wildlife Department and other agencies, service organizations, businesses, universities, Scouts, schools, clubs and many other organizations and individuals in the creation of the nature center and preservation of land.
The Cibolo Nature Center has grown to a staff of 15, with more than 30,000 volunteer hours donated each year. Initiatives include a growing Citizen Science Research team with a focus on land management and water quality, school programs, summer camps, gardening and sustainable-living classes and demonstrations.
Carolyn is co-author, with Brent, of The Nature Center Book, detailing how to develop a nature center, published by the National Association of Interpretation. It has now been translated into Japanese and Chinese. In May 2013, Carolyn and Brent traveled to Japan and China for a speaking tour on nature center development, sponsored by Coca-Cola Japan.
Says Carolyn: "I am the sixth generation on this Hill Country ranch where we live. I come from a long line of women who lived on this ranch and kept journals of their lives and their love of the land. I want all children to have the opportunity to play in the creek or see a great blue heron fly overhead. I am passionate about wild places and I want every generation to have the chance to experience them. Realizing how fast we are losing our natural world, I have dedicated my life to preserving land for future generations to know and love."
Colleen Gardner
Connie Barron
Connie has spent her life in the health care industry including a decade in public policy as a lobbyist for Texas physicians. Former owner of a women's health and fitness business in Austin, she moved to Blanco, TX and joined the Hill Country Alliance Board in 2019, serving through May 2023.
Chris Hale
Chris Hale was born and raised in Austin, and his love for the Hill Country started early with visits to his grandparents' Angus cattle and Angora goat ranch on the Blanco River a few miles upstream of Wimberley. "My grandmother ultimately had to sell the ranch in 1963 as the result of my grandfather's death, but, even though I was only eight years old at the time, the spell was cast," he recalls. In 1989, Chris, an Austin attorney, and his wife Janet, also a lawyer, who teaches at Texas State University, purchased their own Blanco River ranch. "It was important to us that our four sons, and now our 1-year old granddaughter, have the chance to grow up with the kinds of treasured experiences which I enjoyed but were cut short too soon." Chris laughingly points out that the market for Hill Country ranch land changed over the course of the 25 years following his grandmother's sale of the original 2,200 acre Norco Ranch for $100/acre — "We had to locate our Norco Ranch 30 miles west and downsize a good bit, but we continue the tradition with black Angus and two Angoras, one of whom is named "Bill" after the Naval Academy's mascot."
In addition to HCA, Chris has served on a number of boards related to Hill Country conservation, including the State of Texas' Stakeholder Committee (BBASC) for the Guadalupe-San Antonio Basin; a land trust; and a foundation which has funded more than a million dollars of research on hydrology and related issues impacting the Hill Country. Consistent with their dedication to helping to preserve the Hill Country for the enjoyment of future generations of Texans, Chris and Janet donated a conservation easement on their Kendall County ranch to the Nature Conservancy in 2009.
Chris began the practice of law in 1978, and has an emphasis on business law, contracts and patent licensing. He spent almost 20 years as vice-president of a chemical manufacturing company and negotiated contracts in more than 15 countries. Chris also serves as an adjunct professor teaching contract law at universities in Texas, Germany and Albania. As a hobby, Chris enjoys researching and writing about history, especially related to Fort Clark, located at the southwestern edge of the Hill Country and home to the 9th largest spring in Texas.
David Baker
David Baker visited the cypress lined banks of the Medina River twenty eight years ago and fell in love with the Texas Hill Country. He vowed to make this special region his home and has lived in Wimberley, Texas at Jacob's Well Spring since 1988.
David is an artist and land steward who has two children, Jacob and Jessica, who grew up swimming in the ice cold spring water coming from deep within the earth at Jacob's Well, the second longest underwater cave in Texas. He built a magical sculptural home on the site of an old barn on the property and established a beautiful preserve and nature retreat to share this sacred site with the community and the people of Texas.
He has become an environmental educator and advocate along with his wife, Ellen, who has an acupuncture and healing practice in Austin and manages the Retreat at Jacob's Well with David.
David grew up in Kansas City, Missouri and began studying art and design in 1977. He won a football scholarship to the University of Missouri at Columbia & later went on to study painting and sculpture at the Kansas City Art Institute.
In 1990, David acquired twenty five acres at Jacob's Well with a dream of unifying the fragmented parcels around the Well into a single preserve.
David founded the Wimberley Valley Watershed Association (WVWA) in the spring of 1996 to protect the quality and quantity of water in Cypress Creek and the Blanco River and now serves as the Executive Director of the nonprofit organization.
David has served as Vice President of Hays Trinity Groundwater Conservation District, was a founding board member of the Hill Country Land Trust and Greater Edwards Aquifer Alliance, and currently serves as a Vice President of the Hill Country Alliance. David was honored by the State of Texas as the individual winner of the Texas Environmental Excellence Award in 2011.
David and Ellen have created a space at Jacob's Well that allows people to experience the healing power of nature and art and to discover the deep desire for authentic living. To experience the Retreat at Jacob's Well is to reflect, remember and renew our connection to ourselves, the land, the water, and our essential role to care for the earth.
Through his passion for the preservation of Wimberley's watersheds and the bio-diversity of the Texas Hill Country, David has focused on restoring the artesian springs that feed Cypress Creek and the Blanco River watersheds and has brought together the community to permanently preserve over one hundred acres surrounding Jacob's Well, the primary source of Cypress Creek. Much of land surrounding the spring was slated for high density development and after years of litigation and negotiation the land is now permanently protected.
In 2005, the WVWA purchased and began restoring 120 parcels of land around the spring and has in the last seven years removed over four acres of impervious cover around the iconic Jacob's Well. In addition, David and WVWA worked with Hays County, conservation partners, and local elected officials to forward a successful 30 million dollar Parks and Open Space Bond initiative in 2007. Through this partnership, Jacob's Well Spring is now owned by Hays County and the preserve, known as Jacob's Well Natural Area, is now protected with a conservation easement held by the Nature Conservancy and Save Our Springs Alliance.
The WVWA continues to work with local stakeholders and the Meadows Center for Water and the Environment to establish a Watershed Protection Plan for Cypress Creek and the aquifer recharge areas that feed Jacob's Well. The innovative plan is slated to be completed later this summer and will integrate a groundwater protection component along with best management practices and incentives for water quality protection.
The WVWA works locally and regionally as a catalyst to conserve land and establish policies that protect water, aquifer recharge, wildlife habitat, and establish open space and park lands for private landowners, residents and visitors to the region. The WVWA conducts scientific studies and water quality monitoring in partnership with the Guadalupe Blanco River Authority for the Texas Clean Rivers Program. The organization also engages local partners and volunteers to provide environmental education for local youth and participates in regional water policy planning, advocacy and conservation based initiatives. The WVWA has recently launched the Center for Sustainable Living Project to promote the art and science of sustainable living to fulfill the uplifting promise of community health and prosperity through environmental responsibility.
Read more about David and about the work he's doing at Jacob's Well
Emily R. Warren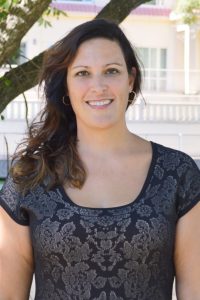 Emily R. Warren is the Associate Director of The Meadows Center for Water and the Environment at Texas State University. For more than 15 years, her work has focused on providing the science that supports policy, watershed management, land and water conservation and sustainable use of natural resources in Texas. She has overseen numerous local, regional and international programs and has coordinated those programs with governmental agencies, non-governmental organizations, private organizations and citizens alike.
Emily grew up with nature in her backyard. Born and raised in Caracas, Venezuela, a country blessed by Mother Nature, she spent much of her childhood outside exploring the tropical beaches and jungles that were at her fingertips. Climbing on coconut trees and finding sloths on the family jungle gym was an ordinary part of life.
Emily attended the University of Illinois at age 16 to pursue a Bachelor's of Science degree in Pre-Medicine, however she became inspired to get involved with environmental causes after learning about the pressures facing wildlife and nature during an ecology class. As a result, she added a Bachelor's of Science degree in Ecology, Ethology and Evolution to her undergraduate studies and dedicated her work to environmental issues.
For graduate school, Emily attended the Indiana University and received a Master's of Science in Environmental Studies and a Master's in Public Affairs. "At that point, I understood the relationship of water as the lifeblood to the environment. You can't save one without the other; you have to look at systems holistically. We have these laws and policies that may or may not be effective in ensuring the sustainability of our natural environment, so I thought I could make a difference in that way."
Prior to her work at the Meadows Center, Emily served as the Policy and Regulatory Coordinator at Texas Parks & Wildlife Department. She was part of the executive team responsible for leading the agency's strategic direction in land conservation, water, recreation and historic site preservation. She also served as Programme and Management Consultant to the United Nations Development Programme's Global Healthcare Waste Project, where she helped develop national medical waste policies and training modules in eight countries to reduce dioxin and mercury through alternative technology use.
While not working (and sometimes while working), Emily enjoys joking around, traveling, sitting by water and exploring the outdoors with her 1 husband, 2 kids and 3 dogs.
Dr. Francine Romero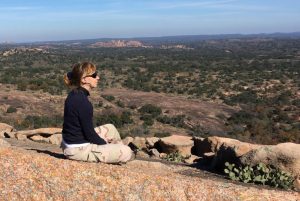 Francine is an Associate Dean and Associate Professor in the College of Public Policy at the University of Texas at San Antonio.  One of her research areas is local land use policy, including open space protection strategies.  She chairs San Antonio's Conservation Advisory Board, which recommends expenditures of the $100 million fund for purchase of land/conservation easements over the Edwards Aquifer Recharge Zone, and serves as San Antonio's District 8 Zoning Commissioner and Vice Chair of the Commission. She earned her M.A. and Ph.D. in Political Science from the University of California, Riverside.  Francine focuses her research on the institutional determinants of public policy, and has authored two books and numerous articles. Her recent work focuses in particular on land use policy, with recent publications on municipal annexation and the logic of open space protection.  In the area of community service, Francine has served on the City of San Antonio Planning Commission, the Parks and Recreation Advisory Board, Mayor Ivy Taylor's Charter Review Committee, and numerous bond recommendation and oversight committees.
Garry Merritt
HCA Board President 2017
Garry is the former Real County Judge and a landowner in his hometown of Leakey. He is a frequent speaker at judicial education programs for Texas Association of Counties and an adjunct professor at St. Mary's University School of Law. He enjoys being on the river, climbing mountains, and spending time with his two children, Luke and Sarah.
Garry has a private law practice, in which he represents clients in business and real estate transactions, sports and entertainment law, estate planning and probate, banking and financial institution law, business development, water rights, civil litigation, and dispute resolution.
Before returning to Real County to practice law, Garry was a corporate attorney with Campbell & Riggs in Houston and Team Counsel for the Houston Rockets.
Garry is board certified in Farm and Ranch Real Estate Law, a Life Fellow of the Texas Bar Foundation, and a member of the State Bar College. He was a member of Texas Agricultural Lifetime Leadership Class XII. He is a Life Member of the American Quarter Horse Association, a Rice Alumni Volunteer for Admission, and a member of the State Bar of Texas Agriculture Law Committee.
He is a former member of the Texas Land Title Association's Annual Conference Committee and Institute Committee. He was a speaker at the 2012 Texas Judicial Academy Spring Session in Lubbock and at the 2012 Texas Judicial Academy Fall Session in Galveston.
Garry joined the HCA board in 2013.
Ira Yates
Raised on a cattle and goat ranch southwest of Austin now known as Circle C Ranch, Ira has witnessed Austin's urban expansion first hand. He is a founding member of the HCA Board and also serves on the board the Bamberger Preserve Foundation and the League of Conservation Voters Education Fund.
Karen Ford
Karen Ford Brings Experience and Passion to Vice President Role with HCA
by Vicki Wolf
Karen Ford brings to her new role as board vice president for Hill Country Alliance (HCA) a wealth of experience and a heart filled with passion for conservation of Hill Country beauty and natural resources. Ford fondly remembers spending many summers at camp near Kerrville. She fell in love with the natural beauty and adventures she discovered there. "I started very early to have an appreciation for the magic of nature, which helped form my core of passions and belief system," Ford says.
As a marketing and communication professional, Ford has created a life's work that expresses her beliefs and passions. She worked with Sherry Matthews Advocacy Marketing on Whole Foods' "clean food" campaign in the early 1990s and the Clean Texas 2000 campaign. "My appetite was whetted for advertising with a cause — not for selling things," Ford says. "I wanted to learn more about ways to use marketing strategies to create awareness, affect change and make the world better place."
Working at Inks Production Company in the late '90s, Ford became involved with film production for corporate communications, but she was still drawn to work that involved causes. It was the company's pro bono work on women's and children's issues that satisfied Ford's desire to be involved with cause-related communications.
The next turn in Ford's career path led her to reconnect with former clients from the state's environmental agency and join their new company, Enviromedia. As the director of creative services, her work included the state's popular litter prevention campaign, "Don't Mess With Texas," as well as tobacco prevention and cessation, water conservation, electronics recycling for Dell, clean air initiatives and wind energy promotions.
"I loved working on those exciting, important campaigns, but I saw a niche to fill working with smaller organizations who were doing good work, but didn't necessarily have big agency budgets," Ford says. In 2005 she formed White Hat Creative and took on her own "white hat clients" like the Nueces River Authority, Any Baby Can, Texas Council on Family Violence and the Arroyo Colorado Watershed Protection Plan.
Ford also found time and reason to get involved in Hays County community issues. To address a country road improvement project that was set to turn her two-lane road into a five-lane thoroughfare, she helped organize and chaired the Nutty Brown Road Neighbors Association.
She participated in the regional water quality planning process and became more aware of the challenges of population growth, rampant development and the importance of protecting the natural resources of the Hill Country. She joined the Hill Country Alliance as a founding board member.
In 2006 Ford decided to run for Hays County Commissioner in hopes of facilitating a more transparent, community-friendly, water-wise county government. Ford won the race and was encouraged by the public response she received. "It was exciting to get involved in this dynamic community and hear from people all over the county who had concerns about growth, open government and water issues," she says.
During her four years as county commissioner, Ford was an advocate for parks and open space, and she became a water conservation champion. Ford organized the Hays County Water Conservation Working Group—out of this organization came the Rainwater Revival, an annual event that remains a celebration of collection, conservation and common sense, now under the auspices of HCA.
During Ford's time in public office, she realized counties have limited authority to manage growth in order to protect property values and sustain a rural character and quality of life. She became active in the organization of the Hill Country County Coalition along with other local elected leaders, and continues to support legislative initiatives for some increases in county authority.
Water resource issues, rainwater harvest education and county authority are HCA initiatives that get the most of Ford's time and attention. "It's not only an honor, but a real active learning experience to serve on the board of HCA, says Ford. "HCA is like a family, and it's just great to be involved with people who know so much and care so much."
Ford's understanding of the local political process and communications expertise are some of the valuable skills she brings to the vice president role. She also is well-equipped to lead on one of the top priorities for HCA this year: water. Last year Ford added to her depth of knowledge on water issues through her continuing work with WaterPR, a company that specializes in communicating about water. One of her projects is working with the Harlingen Irrigation District, which has broadened her knowledge of agricultural water efficiency methods. She is also committed to see that the State Water Plan expands its focus on efficiency and conservation.
As the new HCA vice president, Ford sees the organization more actively reaching out to the corporate community and engaging young people to become involved with Hill Country resource issues. "I also want to see us reach out to other cultural audiences," Ford says. "The Hispanic population is growing in Texas and the Hill Country, and it is important that we reach all audiences."
Ford says she looks forward to serving with the 2013 HCA President Milan Michalec. "He is so energetic and very active with his communication," Ford says. "I look forward to supporting him and being part of a strong leadership team."
Karen Huber
Karen Huber is a 6th generation Texan who was born and raised in the Rio Grande Valley. She is a businesswoman, conservationist, and community leader with over 20 years of experience in agriculture, economic development, real estate development, conservation and electric and water utilities, and most recently served as as Travis County Commissioner for Precinct 3 (geographically the western half of Travis County) from 2009 through 2012. She is a graduate of UT-Austin with a B.A. in Government and History, did graduate work at Texas A & M University and has a Masters degree in Political Science and International Business from the University of North Texas.
As a County Commissioner, Karen was a champion for conservation, natural resource preservation and quality growth and her accomplishments as Commissioner include: leading the county to create and implement new water availability rules for the County's subdivision regulations – rules that provide important protection for groundwater resources; bringing back to Travis County the land-use attorney considered to be one of the best in the State; leadership in barring the TCEQ from a rule change that would have allowed treated effluent to be put into Lake Travis; leadership in the influencing LCRA NOT to grant a huge firm water sale to the proposed White Stallion coal fired plant; acquiring for park and land conservation, another large ranch in far western Travis County that borders the Pedernales River and is critical to watershed protection in the area; organizing and leading the effort to oppose permitting by LCRA of "floating habitable structures" on Lake Travis – convincing LCRA of the magnitude of the environmental and enforcement problems that would have resulted had LCRA approved the proposed precedent-setting permit; Organizing, convening and commissioning an area-supported study of the economic impact of Lake Travis for use in determining good water policy – intended to represent the first of many such studies needed to collectively make wise policy decisions for a river basin; Leadership in bring Travis County's stormwater runoff regulations up to the same standards as the Highland Lakes' Ordinance; Championing a Land/Water/Transportaion Plan for Travis County which, absent county land-use authority in Texas, would serve as a framework for growth planning and allow the County to build on known data and resources in the pursuit of quality growth; Leadership in completing the county's aquistion plan Balcones Canyonland Preserve and protecting it from ever-present efforts to undermine its Federal 10-A permit that allows for the protection of some 30,00 acres in Travis County.
Karen's professional career in real estate development, business management and organizational consulting have given her a wide range of experience and produced successes in multiple industries. In 1990, she created and led the economic revitalization program for the city of Escondido, California, receiving commendation from the City Council for her work. She served as Chief Operating Officer for a real estate development firm in Hawaii where she was responsible for the entitlement process of a $650+million resort, including what was, at the time, the most extensive Environmental Impact Study in the history of the state. As a consultant, Karen specialized in team-building and partnering for major construction projects, among them projects for TxDoT, the City of McAllen, and the University of Texas. She has broad experience in assessing management practices and crafting new process models for municipal electric and water and waste-water utilities.
As an environmental conservationist, Karen has won numerous battles to preserve the health and beauty of the Texas countryside. She currently serves on the Texas A & M Sea Grant Advisory Committee and the Hill Country Alliance Water Team. Previously, as a State Board Member with Scenic Texas (and currently on the Advisory Board), she organized citizen campaigns and testified before the Texas legislature, resulting in legislation to protect specific rural highways from new billboard construction and to beef up enforcement against "bandit signs" in public right-of-ways. Karen also helped lead both the Wild Basin Wilderness Preserve and the Nature Conservancy of Texas in increasing community education and awareness for their diverse environmental projects.
Karen has long been an advocate for Central Texas, the Hill. Before running for office, she worked closely with Travis County and LCRA to help create and guide the Southwest Travis County Growth Dialog Panel that pushed for a balanced, comprehensive plan for growth. And she has been a leader in the long fight to bring transparency and accountability to the management and Board of the Pedernales Electric Cooperative, which services much of Precinct 3.
Karen is married to Leonard Huber and they have lived on Lick Creek in far western Travis County since 1995.
Lee Carrell
Matt Lara
Born and raised in Amarillo, Matt Lara grew up in the back seat of bright-orange Volkswagen pop-top making trips to the Rocky Mountains of New Mexico and Colorado. While watching the landscape change from the flat plains of the Texas Panhandle, to the breathtaking peaks of the Sangre de Cristos, his parents instilled in him a deep love and respect for the natural environment that continues to play a major role in his everyday life.
A very early interest in electricity led him to Undergraduate and Master's degrees in Electrical Engineering from Texas Tech University. During this time Matt spent his off-hours with a community of musicians, artists, and anthropology students that awakened his interests in the humanities. Against the better wishes of his parents, Matt began playing accordion in local bands, and quite nearly switched his major to Anthropology after taking every elective he could in that department. Following several reminders from his parents that he had been interested in being an electrical engineer from a very young age, Matt realized that he would have to find a way of balancing these two sides out over the course of his life, and that furthermore, there had to be a way of eventually integrating these disciplines.
After graduation, Matt spent several months in Costa Rica teaching renewable energy systems to sustainable-design and green-building students at the Monteverde Institute. Following this formative summer, he returned to Texas and began working for Applied Physical Electronics, a small start-up electrical engineering firm located in Spicewood. As the first employee of the company, Matt was tasked with every possible role, including grant writer, machinist, programmer, engineer, and when needed, janitor. As the company matured and hired more staff, Matt was able to focus primarily on engineering, grant writing, and project management.
Over the past 10 years, Matt stayed with the firm and continued to play music all over the Hill Country. During this time, he traveled with the band, and also continued to deepen his love of nature by visiting parks and camping all across the state. This experience has kept him from living out the stereotypical role of a socially disconnected engineer, and has instead allowed him to develop relationships across the Hill Country with other musicians, landowners, conservationists, and artists. Around 2009, Matt became acquainted with members of both the Hill Country Conservancy and the Hill Country Alliance, and learned that his love for the natural environment could become actionable by volunteering with conservation organizations. More recently, Matt has found a very appropriate fit with the Hill Country Alliance's Night Sky program. Leveraging his love for the starry night skies of Texas and a side-interest in high-efficiency lighting, Matt has started delivering talks on light pollution and night sky-friendly lighting to local communities.
Matt's vision of a potential future in conservation involves further integrating his interest in cultural anthropology, experience in grant writing, and knowledge of science and engineering, to help provide momentum, guidance and new ideas to existing non-profits in the form of fundraising, education, and program development.
When Matt is not at work, he can be found playing music on his front porch with a cold Lone Star, or driving every back road he can find between here and the Big Bend.
Milan J. Michalec
Growing up in Slidell, Louisiana Milan Michalec remembers gigging for flounder on the Gulf Coast and working crawfish traps in the swamp. "It was totally different from the Hill Country," Michalec recalls. "There was a lot of water." Maybe it was Michalec's early experiences enjoying an abundance of water that influenced him to become very involved in water conservation issues after he moved to the Texas Hill Country.
Michalec joined the Air Force after graduation from high school and traveled around the world. He was last stationed in San Antonio and retired from the Air Force in 2001 after completing a 25-year career in aircraft maintenance. Since retirement from military service, Michalec has worked as a Department of Defense Logistics and Aircraft Maintenance Program Analyst at Randolph Air Force Base.
Michalec married Tracey, his wife of 33 years, while in the Air Force. They have lived near Bergheim since 1996. Living here, Michalec became interested in the politics of groundwater. "A groundwater conservation district was proposed for Kendall County at the time," he recalls. "At first I took umbrage to the district — I thought it meant they'd be putting a meter on my well." Michalec began studying the groundwater issue and became a convert for the districts. "I realized, with the Rule of Capture, it was the only way to go," he says. "Lacking the groundwater management powers that can be applied by these districts, the biggest pump prevails."
At first, Michalec was interested in the property rights aspect of groundwater, but soon he became more involved with the science side. Today Michalec combines both "to affect policy change for the better." He's been very involved in the local rule making process to update rules for more appropriate response to the area's rapidly expanding growth and the decreasing availability of water, especially groundwater.
Michalec's official involvement in groundwater issues has been expanding since 2006. He is currently serving a third term on the Cow Creek Groundwater Conservation District, and he is the founding member of the Kendall Country Well Owners Association. Michalec also participated in the Camp Bullis Joint Land Use Study representing Trinity Aquifer Groundwater Conservation Districts. Recently he was selected to fill a position to determine environmental flows on the Guadalupe and San Antonio Bay and Basin Area Stakeholder Committee (BBASC).
At Hill Country Alliance (HCA), Michalec served on the advisory board in 2008 and was asked to join the board of directors in 2009. He says he's seen HCA grow in the ability to be very thorough in focus and strategy and expand its presence across 17 counties. "Ultimately we are better prepared to develop high-quality issue papers vetted by professionals and to distribute them using print or our website through a wide area of the Hill Country," Michalec says.
As president of HCA, Michalec says he wants to see the organization lead the discussion on topics such as county authority and the State Water Plan, not just participate. "I want to be able to take advantage of the tools we've developed in the strategic plan and work with electronic media opportunities to be the story rather than respond to it," he says.
Michalec wants HCA to continue to produce educational materials for citizens and decision makers on a wide range of topics. Water will be one of the most important topics for HCA in 2013. "We are working really hard trying to illustrate the interdependence of groundwater and surface water," Michalec says. Other topics of focus are the importance of maintaining healthy riparian areas and preserving night skies.
In addition to facilitating regional initiatives, Michalec sees his role as HCA president to help other members have opportunities for their projects. "I want to support the board members in achieving their goals," Michalec says. "I want them to have the same opportunities I have had
to be successful in developing and implementing projects they feel are important."
Nell Penridge
Pam Reese
Paul Sumrall
Paul Sumrall serves as Treasurer of Hill Country Alliance, and is owner of Hill Country Design Build, a custom home building company located in Johnson City. Paul's professional background in public accounting and small business management is a great fit for the varied tasks associated with a vibrant, growing organization.
Hill Country Design Build offers boutique home construction services tailored to clients who choose to live lightly on their land, take advantage of their natural settings and seek sustainable homes which are well planned and executed.
A native Texan who calls Conroe his home-town, Paul studied accounting in the Houston area, working his way through college in the evenings by attending North Harris County Jr. College, Wharton County Jr. College and University of Houston.
Prior to opening his own business, work experiences for Paul included office manager of a small, family-owned manufacturing company, office manager of a start-up non-profit organization, staff accountant of a municipal utility management firm, and controller of a custom metal fabrication and erection company. Paul has also served as general manager of a 2,000 acre conservation development in the Hill Country.
Spanning his work career Paul has been involved in a wide variety volunteer positions, from clean-up crews at special events to non-profit board and officer roles. In Houston Paul worked with the Houston Heights Association, was a host of Bunnies on the Bayou, served on the board of Lupus Foundation of America Texas Gulf Coast Chapter, served on the Vestry and as Treasurer of St. Stephen's Episcopal Church Houston, as a trustee of St. Stephen's Episcopal School Houston, volunteered with AIDS Foundation Houston in their buddy program and speakers bureau and participated in ArtCrawl Houston and FotoFest.
Currently Paul serves on the Blanco County Appraisal Review Board, as Board Treasurer for Hill Country Alliance, as President of Lambda Classic Car Club International Austin Region, and on the Finance Committee of The Preserve at Walnut Springs Homeowners Association. Paul is the project leader for the upcoming Johnson City Chamber of Commerce Night Skies Business Recognition Program. Memberships include Johnson City Chamber of Commerce, Hill Country Builder's Association, Texas Association of Builders, National Association of Builders, American Rainwater Catchment Association, Central Texas Cadillac LaSalle Club, Mustang Club of America, Early Ford V-8 Club of San Antonio, and Capital City Early Ford V-8 Club.
Paul is passionate about our night skies here in the Hill Country, rainwater harvesting, and responsible land use. "I'm determined to see that Hill Country Alliance is soundly positioned to meet the on-going challenges to the quality of life in the Hill Country," he recently shared with HCA staff.
Pete Dwyer
Owner and president of Dwyer Realty Companies, Pete has focused on innovative real estate development in Central Texas for more than 30 years. His projects have won numerous regional awards and he is often a featured speaker at ULI, NAHB, RECA and other notable industry events. He joined the HCA board in 2014.
One of the few developers included in Austin's exclusive Green Builder Program, Pete is dedicated to sustainability practices and environmental awareness. Pete is also a member of the Capital Area Transportation Committee and an executive board member of Envision Central Texas. Pete lives in Steiner Ranch with his wife and his four children. Pete joined the HCA board in 2014 and served through 2021.
Richard Smith
Roy Mann
Sarah Schlessinger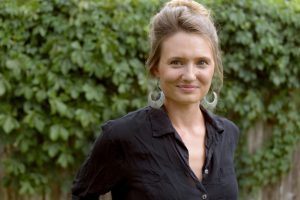 Sarah joined TAGD as the Executive Director in 2015. She previously worked at the Bandera County River Authority & Groundwater District, where she was the Intergovernmental Relations Coordinator.  There, she was responsible for the research and development of management strategies in Texas' regional water planning, participated in local and regional groundwater planning efforts, and served as a liaison to other government agencies, stakeholder groups and elected officials.
Sarah has experience with international non-profits with interest in water policy, and recently spent a year in peri-urban Haiti participating in the launch of an entrepreneurial alternative water infrastructure.
Sarah holds a Bachelor of Arts from Sarah Lawrence College in Political Geography and a Master of Science in Water Science, Policy and Management from Oxford University. She joined the HCA Board in 2014 and served through 2019.
Sharlene Leurig
Sharlene Leurig is an advocate for economic and environmental prosperity. She runs the Sustainable Water Infrastructure Program at Ceres, a national nonprofit helping institutional investors to integrate sustainability into the capital markets.
With Ceres, she works with water service providers to build business models that are resilient to weather extremes, climate change and resource depletion. She also works closely with bond investors to develop credit risk assessment methods that appropriately value sustainable water governance and resource management, and to construct criteria for investment vehicles that will channel capital toward sustainable water systems.
Before coming to Ceres, she was a fellow in the MIT-USGS Science Impact Collaborative at the Massachusetts Institute of Technology, where she focused on the role of science in multi-stakeholder resource planning and dispute resolution.
In her spare time, Sharlene writes about the springs of Texas on her blog Hell's Oasis. She is an avid swimmer, kayaker, hiker and lover of all things wild.
She holds a BA in Physics and English from Washington University in St. Louis and a Master in City Planning from the Massachusetts Institute of Technology.
Sky Lewey
Sky Lewey: A lifetime of caring for natural resources, especially the rivers
by Vicki Wolf
Sky Lewey, former board president of Hill Country Alliance grew up on the banks of the Nueces River. This river was also home to five generations of ancestors who came before her. Today Lewey and her family live on the Open V Ranch, near Uvalde. She is the director of Resource Protection and Education with the Nueces River Authority.
The winding river of Lewey's life took her away from Uvalde to attend school at Drury University in Springfield, Missouri. The school is another connection to history for Lewey: her family has been going to school there since its founding in 1873. Lewey's daughter, Julie Ann Lewey, continues the family tradition at Drury University as a pre-vet student at the school. Her son, Jefferson Davis Lewey, is an architecture student at The University of Texas in San Antonio.
Lewey was early on the environmental scene with a degree in Environmental Science as well as a BA in Chemistry. She finished school at age 20 and found herself working in the petrochemical industry for Northern Petrochemical in Illinois on environmental issues, such as air emissions from chemical plants and hazardous waste reuse/recycle programs. "Everything was new. It was a very exciting time," Lewey recalls. "We were just starting to address some of the big industry environmental issues on a national level."
Lewey was involved in the rule-making for the Resource Conservation and Recovery Act for solid waste, and for portions of the Clean Air Act and the Clean Water Act. It was 1979, a time when industry's big polluters were interested in influencing the direction of regulations and how they would be implemented. "It was a grand way for me to enter the environmental field," Lewey says. She worked with attorneys, policy makers and engineers connected to the economic side of a for-profit company. "We had the attitude – how do we make this work," she says. "We applied some great things such as turning what we were burying and burning into useable products. There were so many easy opportunities."
In the early 1980s with a new U.S. government administration, things changed drastically. "We were going great guns with fuel conservation and waste recovery," Lewey says. "Then corporate funding was cut and everything went to zero." In February in Illinois even the weather was below zero. That was enough to send Lewey packing back to her home town and roots in the cattle business, and her beloved Nueces River. Back in Texas, she worked for regional government on environmental impact and assessment of infrastructure projects such as landfills, wastewater treatment plants and international bridges. She also worked with agricultural commodity groups on developing markets in Asia and Europe.
"Back in 1979 there was little awareness of the environmental work needed along the river. Today, we know there is plenty of work to be done," Lewey says. As destiny would have it, issues emerged around vehicle recreation in stream beds. Lewey joined the Nueces River Authority to work on the issue. "At that time, there was no consciousness about driving, dumping or digging in the river," Lewey recalls. "People did not see the river as a living resource. They saw rock and water or the absence of water." She says she has spent the last ten years working to change that paradigm and save some of the last pristine rivers in Texas.
Lewey designed education programs to connect the resource to people's behavior. "We didn't have any money, so we had to be creative," Lewey says. The program has three targets:
1) Schools and institutions – Working with others, Lewey created a model that teaches the connectedness of geographic behavior and the health of the resource. "We been teaching this for nine years," Lewey says. "Some of the first kids in the program are now having kids." They have three models working in 14 counties, an effort supported by funding from local groundwater conservation districts.
2) Litter-prevention campaign – "This program carries a bold mess of personal responsibility to recreation-ists and river users," Lewey says. The logo, "↑ 2 U (Up to You)," was developed with teenagers to print on biodegradable, vegetable mesh litter bags for distribution on rivers, gulf coast beaches and to fishermen and hunters.
3) Riparian education – Delivered in the form of landowner workshops, this outreach tool helps people who own land along creeks and rivers make better decisions. "It's not about Dos and Don'ts, it's about How and Why," Lewey says. "We are cultivating informed decision-makers." According to Lewey, the network originated with ideas gathered from the local Soil and Water Conservation Districts, which were set up in the 1930s. "Those groups shepherded us into the development of the Riparian Landowners' Network project which began with private sector funding in 2008, and has now reached 655 land owners who influence over 1.5 million acres of land in the Nueces basin," Lewey says.
In 2004, Lewey received a national award from the Environmental Law Institute for her work in educating the public and the Texas legislature about the damage being done by off road vehicles recreating in the stream beds of the Nueces basin. In 2008, Lewey's efforts resulted in the Nueces River Authority's Headwaters Stewardship education program winning a Texas Environmental Excellence Award.
Looking back on the success of her river conservation work and at HCA's contribution to Hill Country conservation, Lewey notes that the riparian function has been the silver bullet, that missing piece of information that people need to understand, in order to make better decisions. She says the Hill Country Alliance also is like a silver bullet, finding the pieces of information that change things. "HCA is designed to do that – a broker of information not widely available," she says. "That's why I'm excited about leading the organization this year."
According to Lewey, the Hill Country is faced with some big resource issues. "The things we value about the Hill Country are produced by the landscape," she says. "People need to know about the production of these values so they can make better decisions."
Lewey says this is a big project year for HCA . Her 2011 intention for the organization is to "lead and catalyze information projects that use art, photo images, poetry and science to cultivate love, appreciation and wise intentions for the natural systems that produce the values we treasure."
Vanessa Escobar
Vanessa served on the HCA Board from 2019-2021, during which time she also worked as the General Manager at Barton Springs/Edwards Aquifer Conservation District. There she coordinated the regulatory program and supported the development and implementation of groundwater management policies.
As a water resource professional in Texas she has focused her work in the areas of water conservation, water law, water resources planning, regulatory compliance, groundwater management, project management and program analysis. She is a native Texan who grew up in Katy, TX and the Rio Grande Valley. She and her family spend their free time trekking across the Hill Country soaking the beauty and heritage.