Camp Bullis Sentinel Landscape Partnership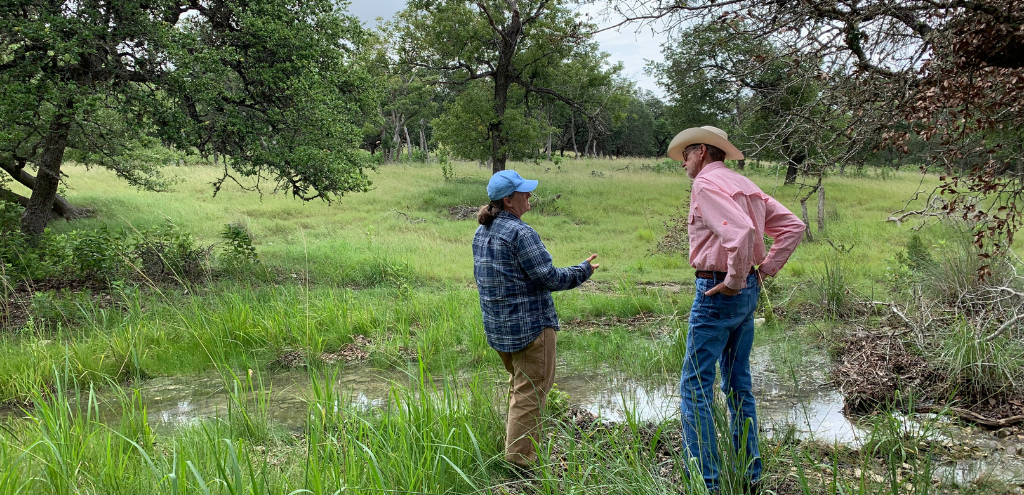 The Lone Star State's First Sentinel Landscape
The Camp Bullis Sentinel Landscape Partnership is a locally-led, collaborative group focused on conserving natural resources, strengthening military readiness, and bolstering agricultural productivity around Joint Base San Antonio-Camp Bullis.
Camp Bullis is located in northern Bexar County on the Edwards Aquifer Recharge and Contributing Zones. Here, Joint Base San Antonio (JBSA) provides training opportunities for 266 mission partners; this includes supporting all Department of Defense (DoD) enlisted and officer medical training, military intelligence, special forces, pre-deployment, national, and international training requirements.
With rapid population growth emanating from San Antonio and the I-35 corridor, the Texas Hill Country and Camp Bullis are facing a mounting number of challenges affecting the long-term resilience of the region's natural resources. New development contributes to the loss of agricultural lands and increased light pollution, impacting nighttime military training. Growing demands on existing water supply have led to the loss of spring flow and aquifer drawdowns, impacting drinking water supplies for Camp Bullis, rural landowners, towns, and cities.
These and other challenges have attracted a myriad of partners to come together to create a collective vision for how to invest in protecting the natural resources that define the region as it grows. Since 2021, HCA has coordinated this collaborative effort, engaging dozens of partner organizations to collaborate towards shared goals.
Collaborative work will especially focus on supporting private landowners with technical and financial resources that align with their stewardship goals. Thoughtful land stewardship provides rippling benefits, not only for the private landowner, but for society and future generations. Good land stewardship enhances water quality and quantity, mitigates floods and drought, supports agricultural productivity, and improves wildlife habitat.
The partnership will seek public and private funding to support a variety of on-the-ground stewardship needs, including: improving soil health and infiltration; managing hillside erosion and creek-bank stability; and increasing native plant diversity and abundance.Landowners within the multi-county focal area will then have the opportunity to apply for funding to support a variety of practices, from grazing management and prescribed fire, to creating erosion-control features, and drill seeding grasses.
The Partnership will also work to address regional challenges and opportunities, including: reducing light pollution that impairs nighttime training capabilities at Camp Bullis; mitigating wildfire risks to the military installation and nearby communities; and enhancing access to outdoor recreational opportunities.
Video: Camp Bullis Sentinel Landscape
Learn more about Texas's first Sentinel Landscape in this 14-minute recording from the 2022 Texas Groundwater Summit.
Video: A New Frontier in Public-Private Land Conservation and Stewardship
In this 7-minute recording from the 2021 Hill Country Leadership Summit, HCA's Land Program Director Daniel Oppenheimer presents a new project to advance collaborative conservation in the southern Hill Country.
Partners
This work is made possible through ongoing collaboration between more than 30 partners across the region. CBSL partners are divided into two categories – signatory partners are charter members that signed a memorandum; supporting organizations are part of the core team and have invested significant time in the project.
Alamo Area Council of Governments
Alamo Resource Conservation & Development Area, Inc.
Bexar Audubon Society
Cibolo Center for Conservation
Cibolo Conservancy
City of San Antonio
Comal County Conservation Alliance
Cow Creek Groundwater Conservation District
Edwards Aquifer Authority
Edwards Aquifer Conservancy
Great Springs Project
Greater Edwards Aquifer Alliance
Hill Country Alliance
Joint Base San Antonio
San Antonio River Authority
Texas A&M – Natural Resources Institute
Texas Wildlife Association
Trinity Glen Rose Groundwater Conservation District
US Fish & Wildlife Service
Bandera County River Authority and Groundwater District
Bat Conservation International 
Camp Stanley
DOI National Park Service – Rivers, Trails & Conservation Assistance
Federal Emergency Management Agency, Region 6
Green Spaces Alliance
Guadalupe Blanco River Trust
Kendall County Soil & Water Conservation District
San Antonio Board of Realtors
San Antonio Chamber of Commerce
San Antonio Hispanic Chamber of Commerce
Texas Agricultural Land Trust
Texas Division of Emergency Management
Texas Military Department
Texas Military Preparedness Commission
Texas Parks & Wildlife Department
Texas State Soil & Water Conservation Board
Texas State University – Meadow Center for Water and the Environment
The Nature Conservancy
University of Texas – San Antonio
USDA Natural Resources Conservation Service
US Army Corps of Engineers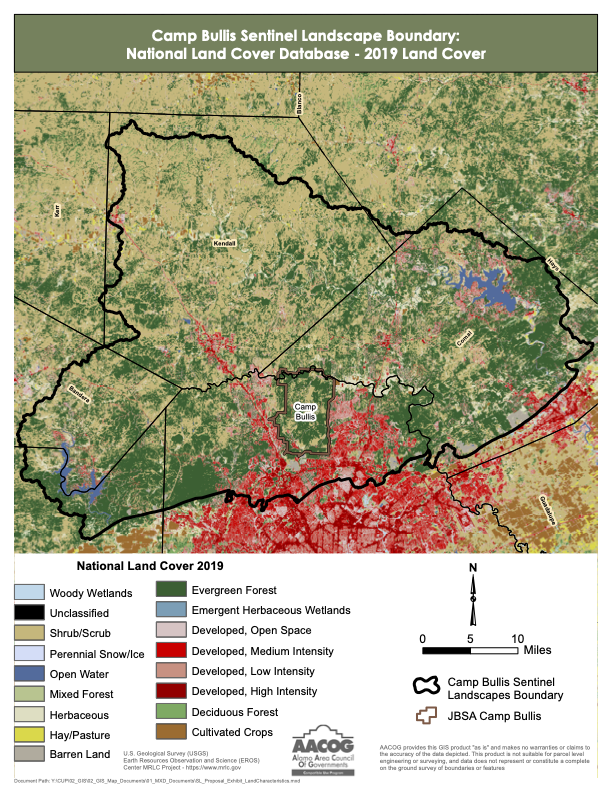 This map of land cover within the Camp Bullis Sentinel Landscape Boundary shows largely undeveloped shrub and evergreen forests facing encroaching development from San Antonio.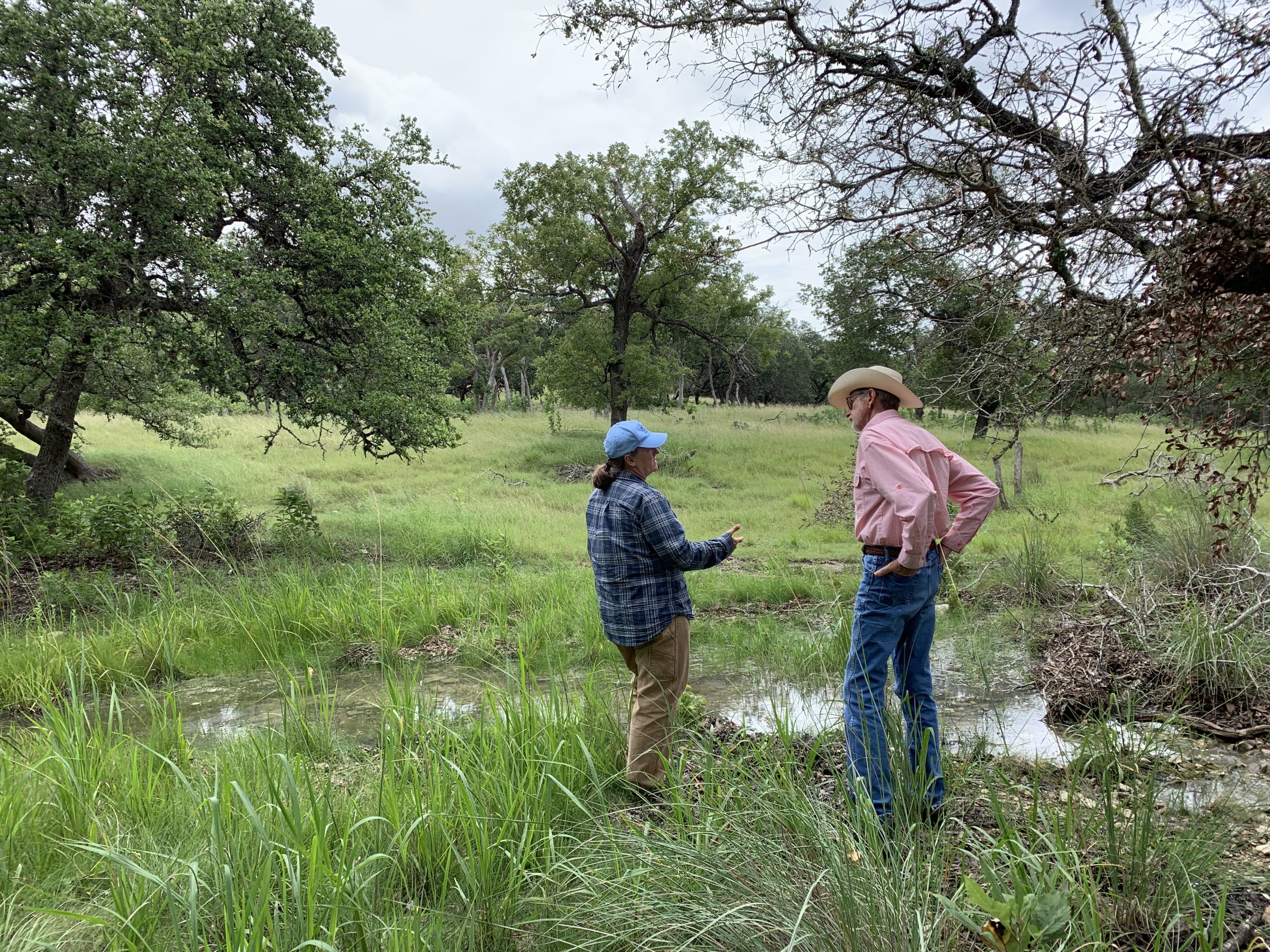 Landowner Stewardship
Collaborative work will especially focus on supporting private landowners with resources that align with their stewardship goals.
"Thoughtful land stewardship provides rippling benefits, not only for the private landowner, but for society and future generations," – Daniel Oppenheimer, Hill Country Alliance Land Program Manager and Camp Bullis Sentinel Landscape Coordinator.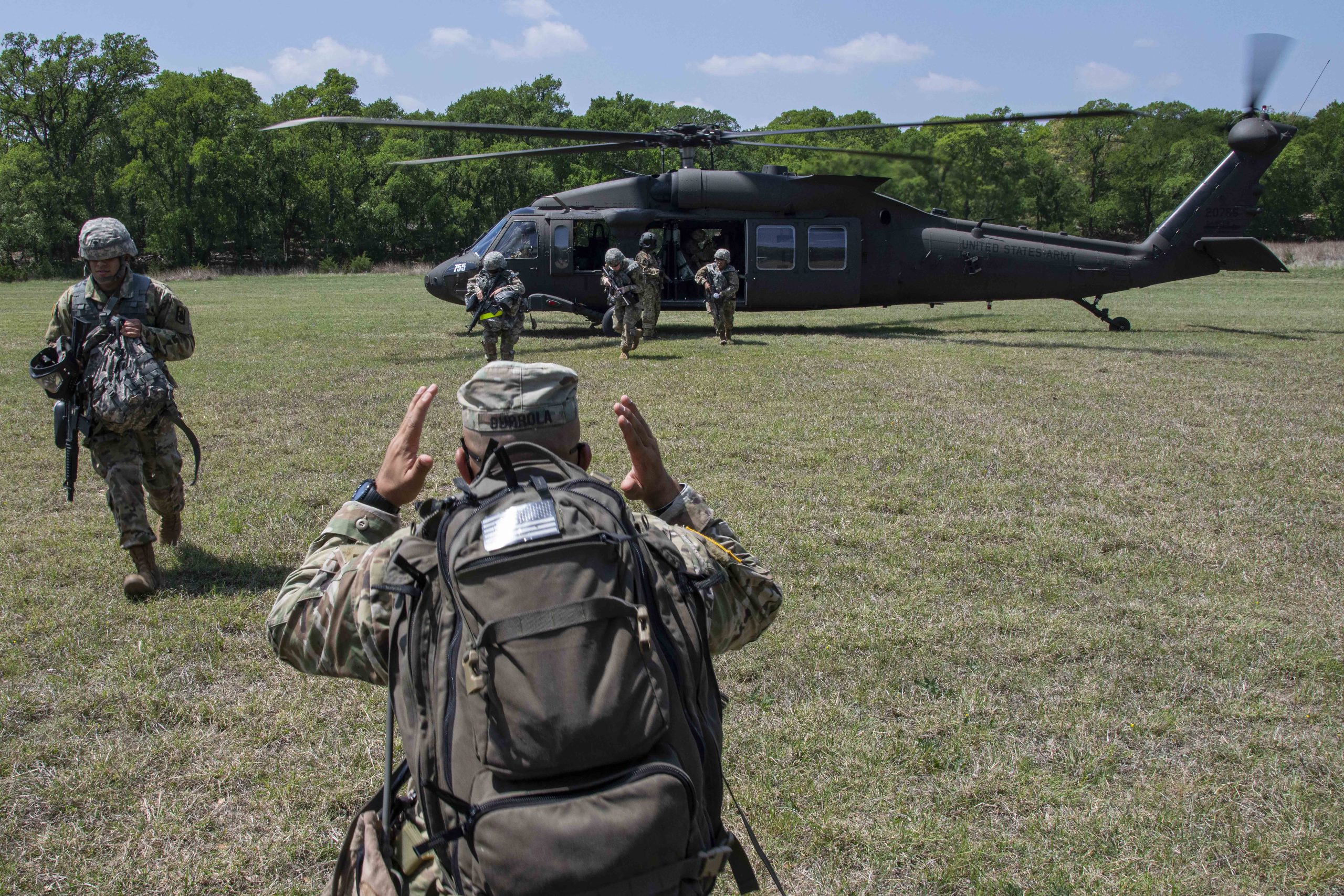 Camp Bullis Military Training Reservation is a U.S. Army training camp comprising more than 27,000 acres in Bexar County, Texas, just northwest of San Antonio.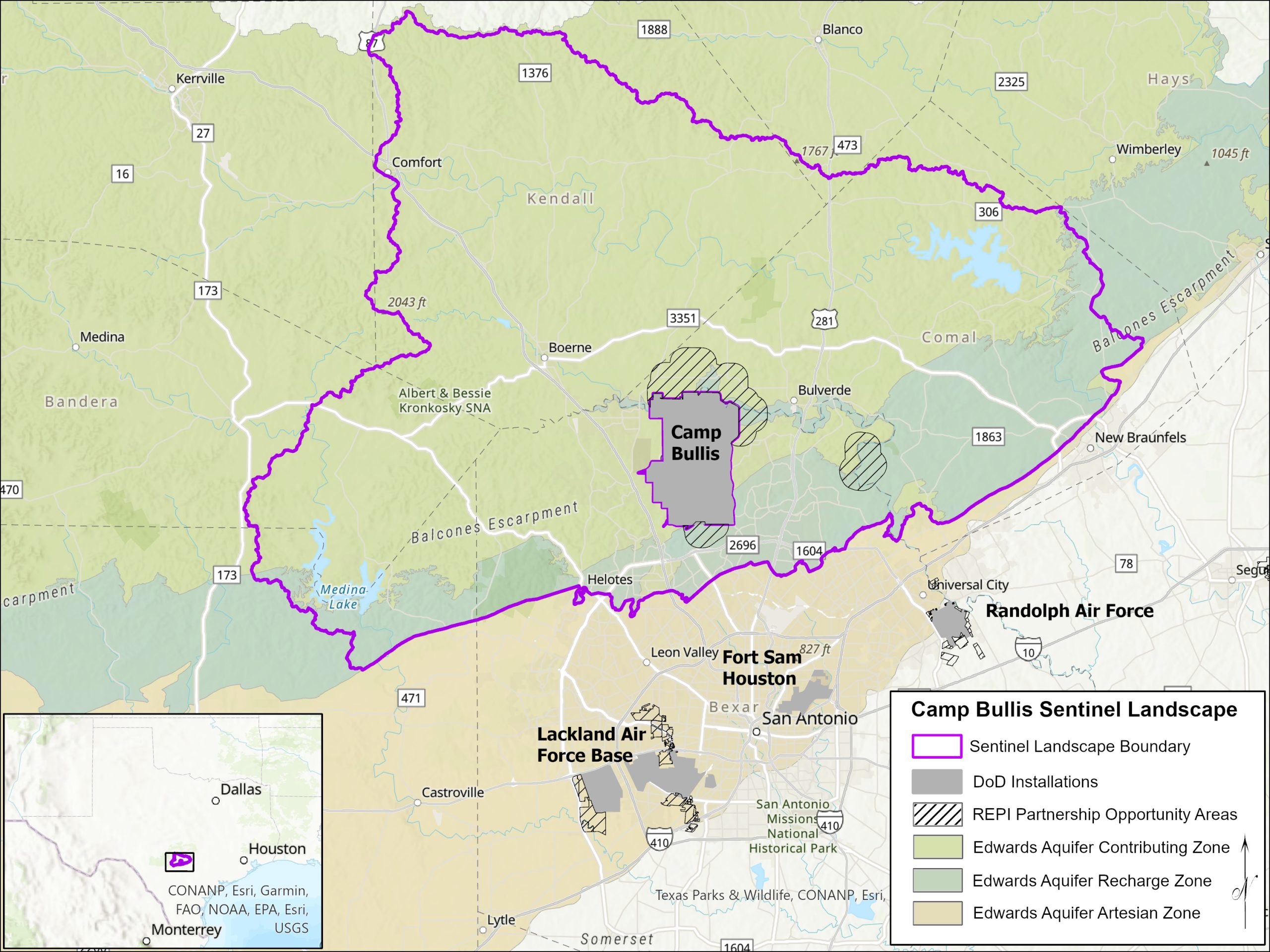 This map highlights the multi-county area surrounding Camp Bullis where our partnership will provide technical assistance and financial resources to help landowners meet their stewardship goals.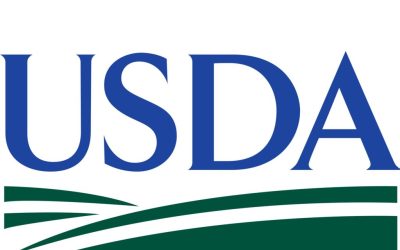 The U.S. Department of Agriculture (USDA) announced it is awarding $197 million for 41 locally led conservation...
read more