Landowners are ultimately the keepers of this precious region. In many areas, landowners are organizing themselves to watch over and protect common rivers, watersheds, viewsheds, wildlife habitats and rural ways of life. Some of these landowner alliances are well established and formally organized such as the Bandera Canyonlands Alliance. Others are working in more informal ways, simply gathering together to become educated about conservation strategies and encroaching development pressure.
We are gathering information about Landowner Alliances in the Hill Country region and also in other areas to help create a community of sharing. Please contact HCA if you know of a landowner alliance, are interested in starting one or are just interested in this topic. HCA is dedicated to nurturing these alliances by providing research, educational resources, networking, mapping tools, database management, guest speakers for events and simply by adding energy to their purposes.
Texas Hill Country Landowner Alliances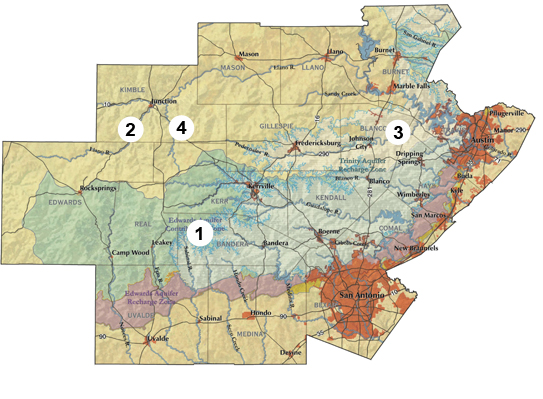 1. Bandera Canyonlands Alliance – A Wildlife
Association – Neighbors working together to protect and preserve the natural beauty and rural way of life in the Bandera Canyonlands. Water Resources of the Bandera Canyonlands Alliance
2. South Llano Watershed Alliance – An organization of landowners and interested stakeholders whose mission is to preserve and enhance the South Llano River and adjoining watersheds by encouraging land and water stewardship through collaboration, education, and community participation.
3. Pedernales Watershed – With a recently conceived idea, a small number of landowners within the Pedernales Watershed will be gathering to discuss land conservation in their area. Their intent is to increase the already significant amount of protected land in their watershed. As additional conservation landowners are identified, the group hopes to grow in size. Their plan is to have two or three get-togethers a year and to keep their group informal and unstructured with an open dialog among landowners about furthering conservation and protecting the water quality of the Pedernales River.
4. Clearview Alliance – Landowners united specifically to reduce the negative consequences of huge power transmission lines.
Examples of Landowner Alliances working in other parts of the country
Chama Peak Landowner Alliance – The Chama Peak Landowner Alliance is an association of conservation-minded landowners working collaboratively to practice and promote ecologically and economically sound land management in the southern San Juan Mountains of Colorado and northern New Mexico.
Blufflands Alliance – Most of Blufflands Alliance conservation successes begin with conversations between one of our staff members and a private landowner (or family) – by phone or over a kitchen table. We understand that your land is often your largest financial asset – and that it may have powerful family or emotional ties as well. Private land trusts cannot and do not take land from unwilling partners. In most cases, landowners come to us – exploring options for protecting their land, seeking
Recent Landowner Alliance News
I am Milann Guckian, president of Preserve our Hill Country Environment (PHCE) Foundation. It was January 2022 that I last wrote about our ongoing battle with Vulcan Construction Materials and the Texas Commission on Environmental Quality (TECQ) regarding the proposed...