2022 Leadership Summit – Our Shared Stories: Past, Present, and Future
Presented by the Hill Country Alliance and The Hall at Jester King Brewery
The Hill Country Leadership Summit is the Hill Country Alliance's premiere annual gathering, and provides an opportunity for learning, networking, and being inspired among our region's top community leaders, conservation practitioners, and natural resource managers.
The 2022 Leadership Summit will be held online and in-person in an open-air setting on September 29 from 8 AM – 4 PM at The Hall at Jester King Brewery, followed by a networking happy hour from 4-6 PM.
In-person tickets for the 2022 Summit are SOLD OUT! However, virtual registration opportunities are still available. For the first time, you can also bid on items in the Leadership Summit Online Auction! Click here to learn more. 
Explore the Agenda
As always, the Summit provides an opportunity for learning, networking, and celebrating and will feature presentations and conversation with local leaders and regional experts. Read on to view highlights – agenda overview linked here!
David Buggs – Different Shades of Green
Chief Diversity and Inclusion Officer, Texas Parks and Wildlife
Perhaps your family heritage includes a long history of ranching, or maybe attempting to get outside during the pandemic is what first introduced you to Texas' wide-open spaces. Regardless, we all have an intrinsic attachment and appreciation for the natural world. Our ability to access and enjoy these resources is key to sustaining a legacy of outdoor engagement and crucial to our region's future success. David Buggs will remind us how we all are connected to our outdoor spaces, why the challenge of stewarding those spaces belongs to everyone, and what your role is in creating a more welcoming environment for all.  
Speakers at the 2022 Summit:
Vanessa Torres – Lyndon B. Johnson National Historical Park
María F. Rocha – Indigenous Cultures Institute
Juan Martinez Pineda – The Aspen Institute
Katy Baldock – Fin and Fur Films
Vanessa Puig-Williams – Environmental Defense Fund
David Yeates – Hill Country Alliance Board
Representative Erin Zwiener, District 45
Commissioner Don Durden, Kendall County Precinct 4
Judge-elect Hal Rose, Kimble County
Dr. Robert Mace – The Meadows Center for Water and the Environment
Soll Sussman – Hays County Friends of the Night Sky
Angelica Lopez – Texas A&M Natural Resources Institute
Julie Lewey – Nueces River Authority
…and more!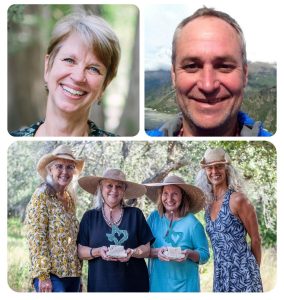 The Heart of The Hill Country Award was created by HCA in 2019 to recognize and thank our region's greatest natural resource champions. Previous recipients of the award Annalisa Peace, and Karen Ford will present the 2022 awards.
This year's honorees are Carolyn Chipman Evans, CEO of the Cibolo Center for Conservation and David Baker, Founder & Executive Director of Watershed Association and Art4Water – two individuals who have spent decades championing and stewarding the natural resources of our region.
Carolyn and David will be presented with a beautiful award, designed and crafted by Hill Country artist J.J. Priour using Cordova limestone and glass. Much like the limestone used in his art, Priour has deep ties to the Hill Country and his late father Damian was instrumental to the formation of the Hill Country Alliance.
Register for the Summit
Attendance for the in-person 2022 Leadership Summit is capped at 200 and SOLD OUT, however, there are unlimited opportunities for folks who cannot join us in-person to join us virtually. Virtual attendees will receive access to a special streaming platform for a livestream of the day's events. Early bird tickets to join us in-person will be on sale July 11 – August 14.
Ticket Type
$120 – General Admission
$100 – Early Bird (available until 8/14)
$50 – Virtual Attendance (livestream)
$20 – Student (virtual or in-person)
$20 – Educator (virtual only)
Virtual Access and Reduced Rates
We are excited to roll out three virtual attendance options for attendees who prefer to tune in online! Virtual attendance gives you access to the full day's presentations, a live chat throughout the event, and unlimited online access to all recordings after the event.
closed
Educator Rate - $20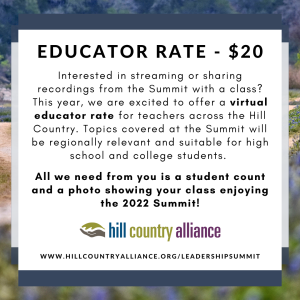 The Educator Rate was inspired by friends at Junction High School in 2021. We hope this will be a great way for key takeaways from the Summit to spread into additional learning environments across the Hill Country. Topics covered at the Summit will be regionally relevant and suitable for high school and college students. Excited to register as an educator or share with all your teacher friends? All we need from you is a photo showing your class enjoying the Summit and you'll be entered to win an HCA swag bag – featuring a t-shirt, tote, postcards, stickers, and a Hill Country map! HCA staff will follow up to coordinate details and answer any questions you may have.
For additional information, please contact leah@hillcountryalliance.org.
Student Rate - $20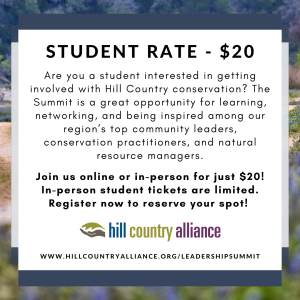 Are you a student interested in getting involved with Hill Country conservation? The Student Rate is meant for you! The Summit is a great opportunity for learning, networking, and being inspired among our region's top community leaders, conservation practitioners, and natural resource managers.
Join us online or in-person for just $20! In-person student tickets are limited. Register now to reserve your spot!
Virtual Rate (General Access) - $50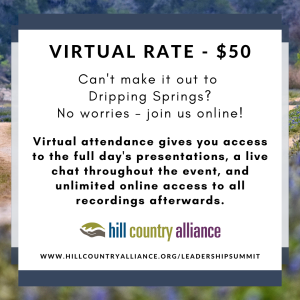 Can't make it out to Dripping Springs? No worries – join us online!
Virtual attendance gives you access to the full day's presentations, a live chat throughout the event, and unlimited online access to all recordings afterwards. It's a great way to join the fun from wherever you are!
Bid in the Online Auction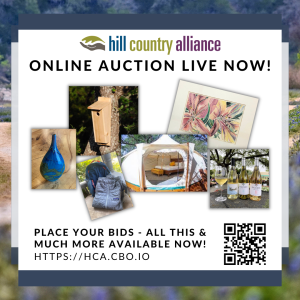 This year, in conjunction with our annual Hill Country Leadership Summit, we are hosting an online auction benefiting the Hill Country Alliance. Your support allows us to continue our important work in protecting the Texas Hill Country's most valuable resources. The auction will close in two weeks, at 3 p.m. on September 29th, during the Leadership Summit.
We have over 15 unique Texas Hill Country items for you to bid on!
From a professionally guided birding trip, glamping in Spicewood, and wine tours across the Hill Country to gear from Patagonia, one-of-a-kind artwork, hand-blown glass, and so much more – there is something for everyone!
Items will be available for our winning bidders to pick up at the conclusion of the Leadership Summit on September 29th. If you want to bid on an item and cannot attend the Summit, we will work with you to arrange pick-up, delivery, or shipping of your item.
If you have questions about the auction or registering for a bidding account, please reach out to chanee@hillcountryalliance.org. If the item needs to be shipped, the cost will be the responsibility of the winning bidder.
Use the button below to visit our online auction page and create an account to start bidding today!
2022 Leadership Summit Sponsors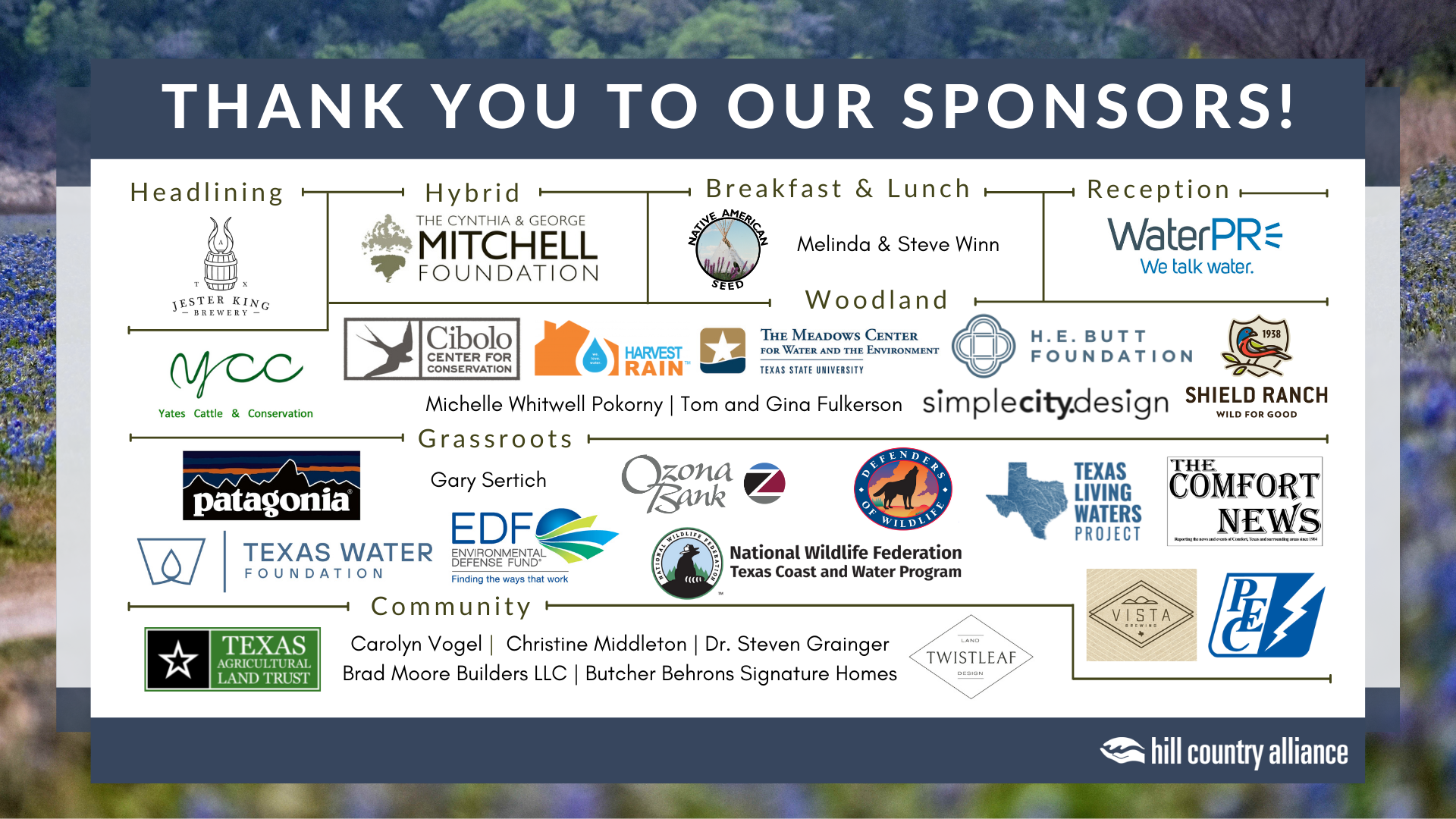 Sponsor the Summit
The Leadership Summit is made possible through the generous contributions of our sponsors – both on a corporate and individual level. This year, we were proud to roll-out multiple levels of sponsorship, from $250 to $10,000. All sponsorships of $250 and up received special recognition during the event. We are no longer accepting additional sponsorships for in-person attendance at this time. Questions? Contact Chanee@hillcountryalliance.org.
Venue: The Hall at Jester King Brewery
While Jester King started as a small craft brewery 11 years ago, the brewery now stewards 160 acres of the Hill Country and is committed to preserving its resources. Being able to host gatherings, create and maintain trails, and grow hops and grapes onsite is "part of preserving the land… finding creative, alternative sources of using it in a sustainable way," according to Co-founder, Jeffrey Stuffings.
Venue Photos
Additional photos of the site and grounds can be found on The Hall at Jester King's venue page or on Jester King Brewery's website.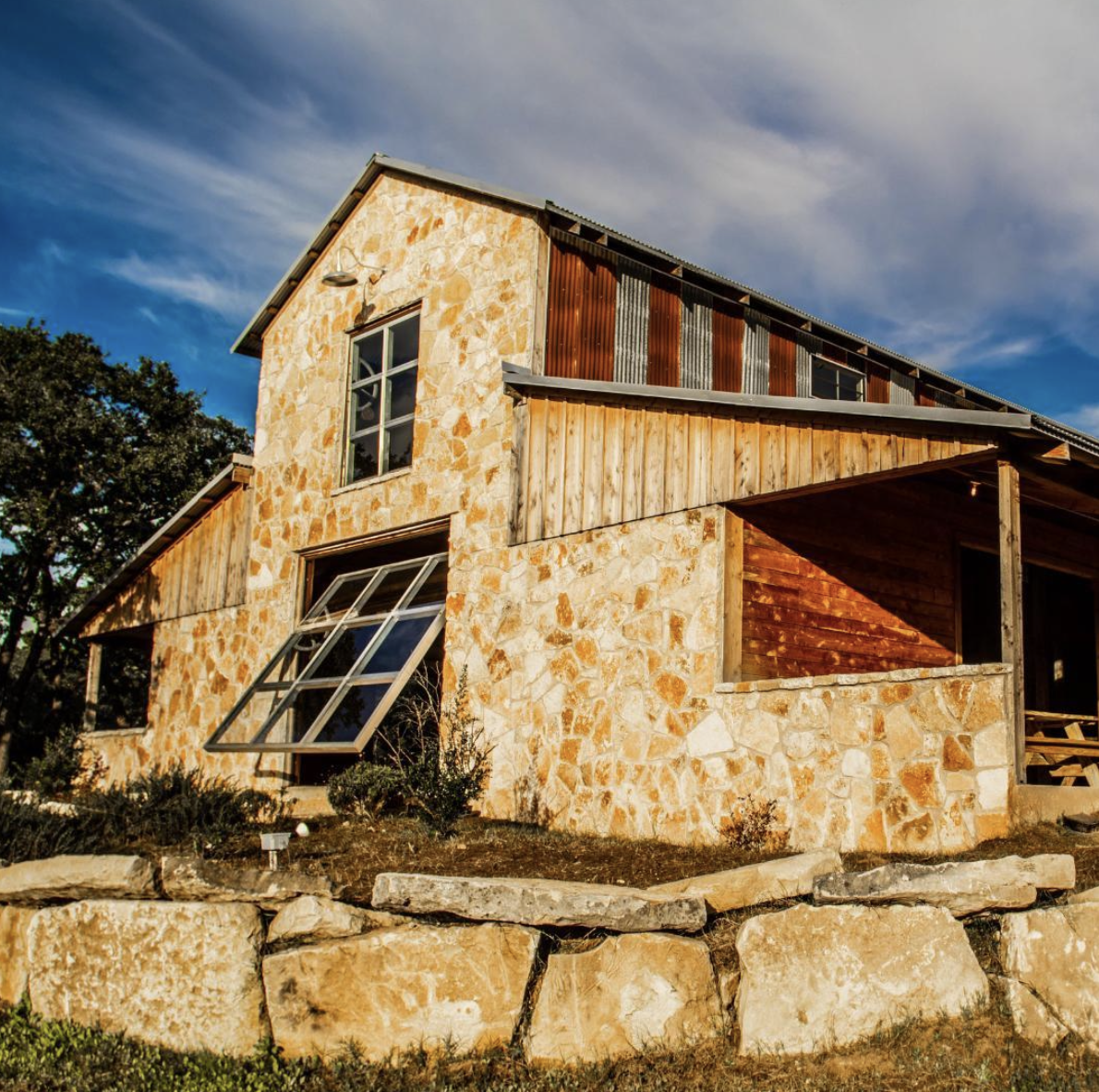 Front view of The Hall, image courtesy of Jester King Brewery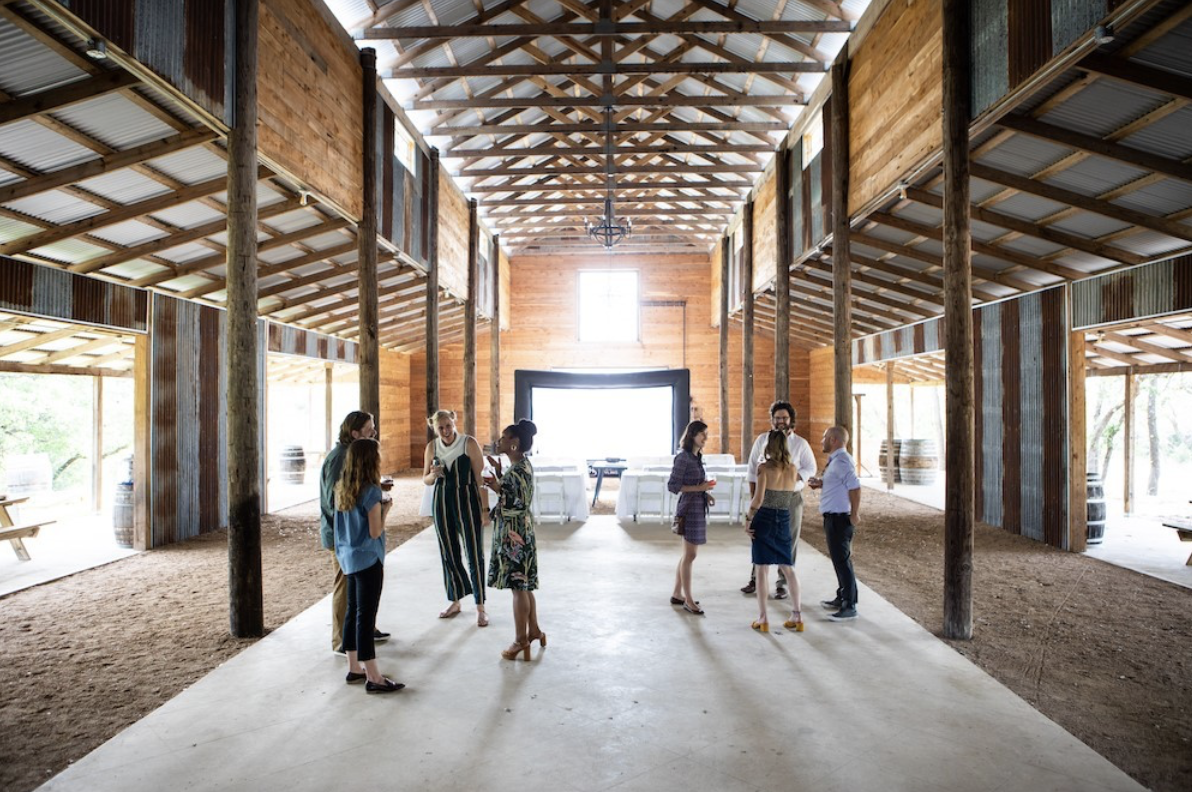 Inside view of The Hall, image courtesy of Jessica Attie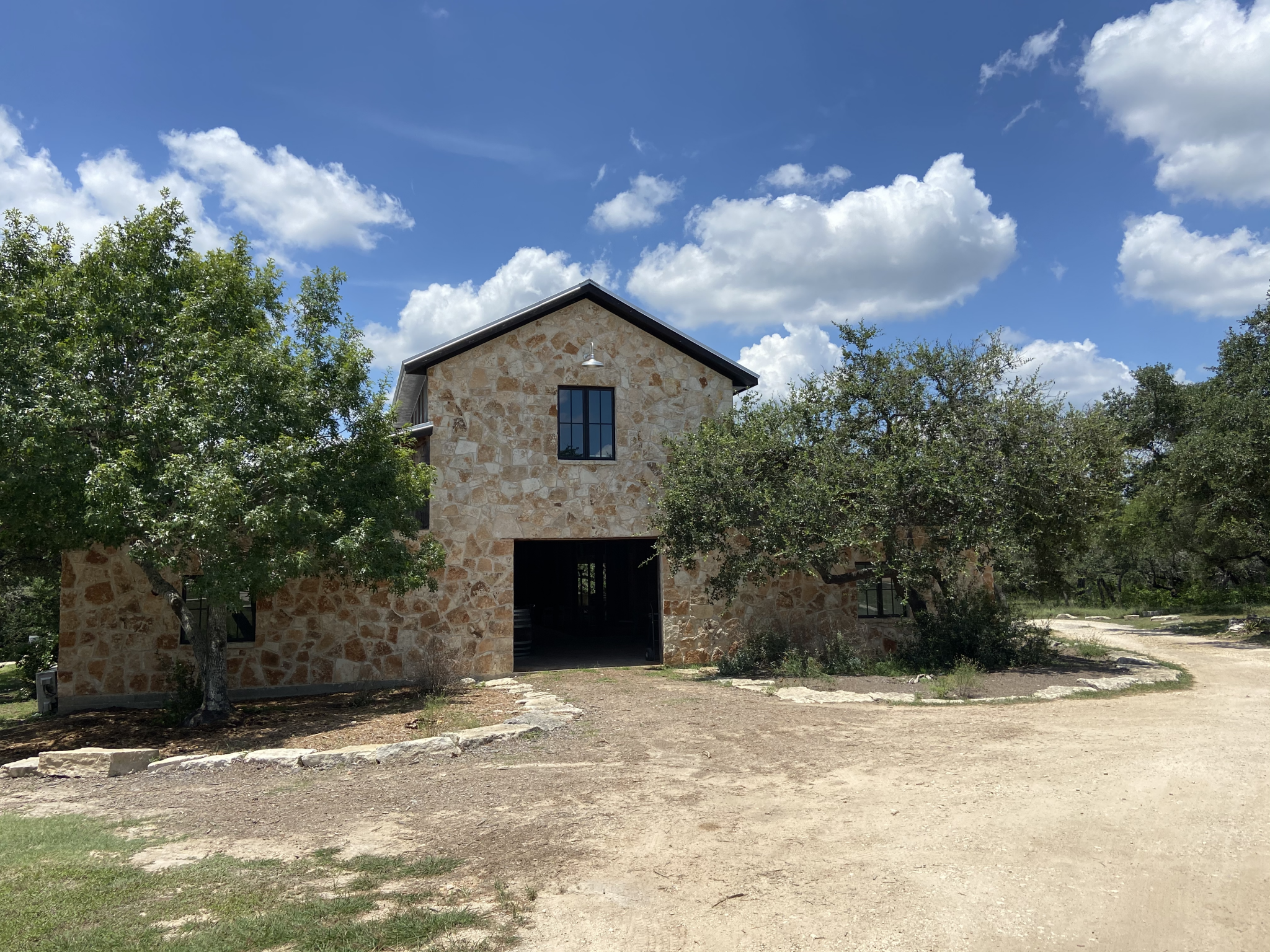 Back view of The Hall, image courtesy of Hill Country Alliance
"Just wanted to say you all did an awesome job on the Summit! The content was varied and interesting, the venue felt more like an adventure than a conference room, and the people were fun and friendly. It was informative, restorative and inspiring. Also the two women honored with the awards are two of our hardest working most undervalued community members, so thank you for recognizing them!"
"Just a quick note to say THANK YOU for a wonderful event yesterday. It was my first in person HCA event, and I left feeling such positive energy and hopeful confidence in what we want to work on in Real County. Thank you for all you are doing and for all of the support you are providing all of these people and entities doing the Good Work. We feel it!!"
"I was a virtual watcher/listener today. The program was excellent, and the virtual experience was the best I have had. I have never felt so cared for in a virtual setting. That means so much, and I am very, very grateful."
Past Leadership Summits
For more than 10 years, the Hill Country Alliance has been convening partners for an annual summit. Click the button below to explore resources from past Leadership Summit events.