2022 Leadership Summit – Our Shared Stories: Past, Present, and Future
Presented by the Hill Country Alliance and The Hall at Jester King Brewery
Thank you to who joined us for the 2022 Hill Country Leadership Summit: Our Shared Stories: Past, Present, and Future on Thursday, September 29th at The Hall at Jester King!
This year's Summit brought together more than 250 attendees – both online and in-person – eager to learn about conservation strategies, discuss complex natural resource challenges and solutions, and connect with community leaders across the Hill Country. Attendees ranged from college students to professionals across the conservation, development, and county government spaces.
Share Feedback from the Summit
Did you attend the 2022 Hill Country Leadership Summit? If so, we'd love to hear about it! Please click the button below to take a brief survey which will be used to inform future Leadership Summit planning efforts.
Explore the Day's Events
As always, the Summit provided an opportunity for learning, networking, and celebrating and featured presentations and conversation with local leaders and regional experts. Read on to view highlights – Summit press release linked here!
The Power of Storytelling
Panelists: Maria Rocha – Indigenous Cultures Institute | Vanessa Torres – LBJ National Historical Park | Katy Baldock, Fin & Fur Films | Juan Martinez-Pineda – The Aspen Institute | Moderator: Leah Cuddeback – Hill Country Alliance
Storytelling – a deep-rooted, innately human practice that goes beyond education, outreach, or communication. We all have a story to tell – shaped by our own individual experiences, perspectives, and passions – and we can accomplish much more for conservation in the Texas Hill Country when it all comes together. This panel discussed the various ways that storytelling can be used to connect across dividing lines, inspire beyond education, and drive change through meaningful calls to action.
David Buggs – Different Shades of Green
Chief Diversity and Inclusion Officer, Texas Parks and Wildlife
Perhaps your family heritage includes a long history of ranching, or maybe attempting to get outside during the pandemic is what first introduced you to Texas' wide-open spaces. Regardless, we all have an intrinsic attachment and appreciation for the natural world. Our ability to access and enjoy these resources is key to sustaining a legacy of outdoor engagement and crucial to our region's future success. At the 2022 Summit, David Buggs reminded us how we all are connected to our outdoor spaces, why the challenge of stewarding those spaces belongs to everyone, and what your role is in creating a more welcoming environment for all.
View and Download Presentations from the 2022 Leadership Summit
David Buggs – Different Shades of Green
Dr. Angelica Lopez – Texas Hill Country Conservation Network Water and Equity Project
Vanessa Puig-Williams – How to Save a Spring
David Bezanson – Edwards Aquifer Protection Program
Melissa Parker & Ryan McGillicuddy – Guadalupe Bass Restoration Initiative
Julie Lewey – Nueces River Authority
Soll Sussman – Protecting the Hill Country Night Sky
April Sansom – Selah, Bamberger Ranch
Zach Spector – Sporting Good Sales Tax and the Texas Parks and Wildlife Foundation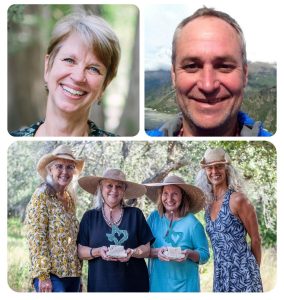 The Heart of The Hill Country Award was created by HCA in 2019 to recognize and thank our region's greatest natural resource champions. Previous recipients of the award Annalisa Peace, and Karen Ford will present the 2022 awards.
This year's honorees are Carolyn Chipman Evans, CEO of the Cibolo Center for Conservation and David Baker, Founder & Executive Director of Watershed Association and Art4Water – two individuals who have spent decades championing and stewarding the natural resources of our region.
Carolyn and David will be presented with a beautiful award, designed and crafted by Hill Country artist J.J. Priour using Cordova limestone and glass. Much like the limestone used in his art, Priour has deep ties to the Hill Country and his late father Damian was instrumental to the formation of the Hill Country Alliance.
View Photos from the 2022 Leadership Summit
Photos from the 2022 Hill Country Leadership Summit – Our Shared Stories: Past, Present, and Future, hosted at The Hall at Jester King Brewery. Photography courtesy of Jacob Gonzalez (Instagram – @viridianbyj or email).
Summit Testimonials
Did the Summit leave you feeling inspired? Did you make a connection with someone new that lead to a great partnership? Finally meet folks you had only seen on Zoom? If so, we'd love to hear about it! Please click the button below to take a brief survey which will be used to inform future Leadership Summit planning efforts.
"Congratulations on putting on a fantastic Leadership Summit! I've been following HCA for about 10 years now and this was my first official event to attend – I feel like I'm truly a part of the HCA family now!"
"Just a quick note to say THANK YOU for a wonderful event yesterday. It was my first in person HCA event, and I left feeling such positive energy and hopeful confidence in what we want to work on in Real County. Thank you for all you are doing and for all of the support you are providing all of these people and entities doing the Good Work. We feel it!!"
"That was a very well thought-out conference, from the beautiful venue (with plenty of cool air) to the snacks and meals and coffee available, to the very well-organized speaker list. The "rapid fire" session and the panels were extremely well moderated and helped us participants engage with so many worthwhile people, causes, and concerns. Mr. Buggs was an exceptional keynote. As a first-time participant, that was the best bang-for-my-buck networking and learning opportunity I could have imagined."
"I was a virtual watcher/listener today. The program was excellent, and the virtual experience was the best I have had. I have never felt so cared for in a virtual setting. That means so much, and I am very, very grateful."
"Thank you, and all of HCA for putting the Leadership Summit on. It was a fantastic event and so great to be in the presence of like-minded conservationists! The venue was incredible and it was such an honor to listen to the panelists storytelling and perspectives. I left feeling inspired to take action and continue to work with the organizations involved with HCA, and those outside of it as well with common goals."
"Just wanted to say you all did an awesome job on the Summit! The content was varied and interesting, the venue felt more like an adventure than a conference room, and the people were fun and friendly. It was informative, restorative and inspiring."
2022 Leadership Summit Sponsors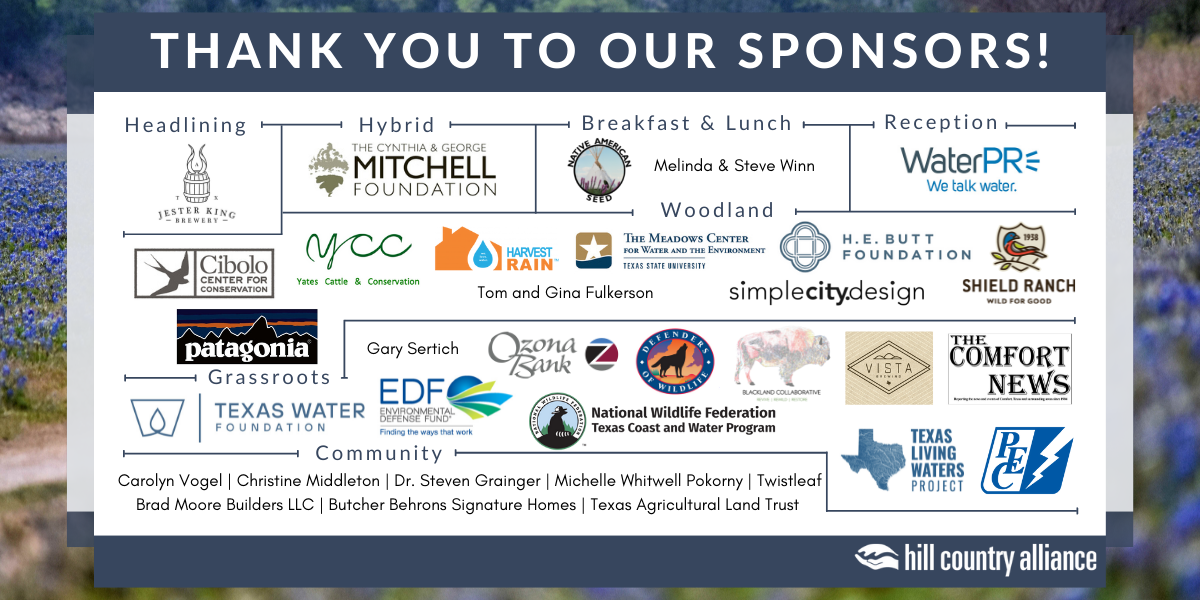 Past Leadership Summits
For more than 10 years, the Hill Country Alliance has been convening partners for an annual summit. Click the button below to explore resources from past Leadership Summit events.