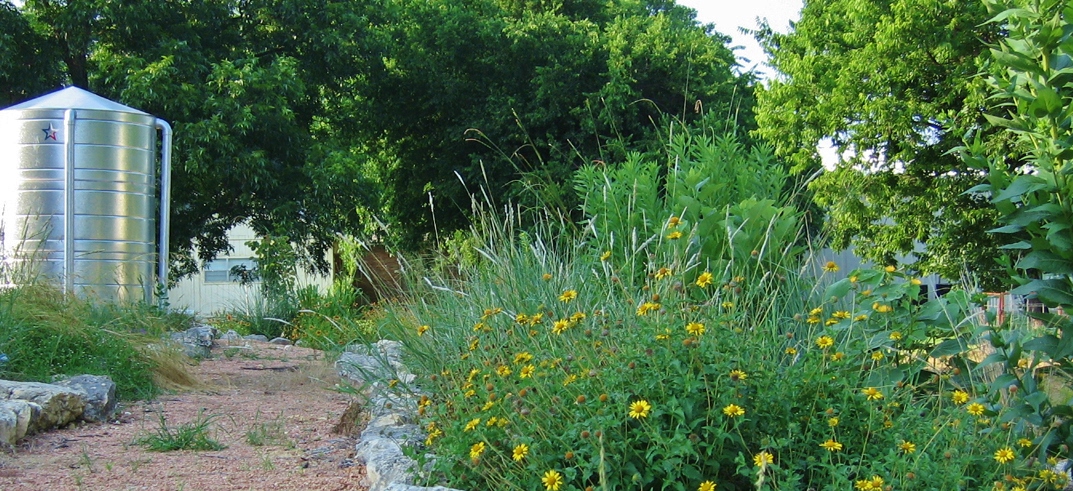 Rainwater Harvesting
Water is scarce in the Texas Hill Country. With our drought-and-flood climate and stressed water supply, alternatives to traditional water project development can help increase reliability, conserve resources and protect the environment. An effective, desirable and responsible alternative is rainwater harvesting.
We value rainwater for its purity and softness. Groundwater, aside from being a limited resource, can be "hard," coating dishes, plumbing, hair and clothes with mineral residue. Often, hard water doesn't even taste or smell good.
A properly designed and installed rainwater harvesting system can provide clear, safe water for potable and non-potable use, especially for landscaping and other outdoor needs. In addition to providing high-quality water, a rainwater system is actually highly drought tolerant. Because it collects the rain so efficiently, even a light rain can make a big contribution to your water storage! Most of the costs are up-front, covering installation, although regular maintenance is required.
Unlike groundwater pumping, rainwater harvesting does not use a lot of energy. Generally, rainwater is collected from a house's roof and filtered into a storage container. One inch of rain drops more than 1,000 gallons of water on a 2,000-square-foot roof! You can use the Texas A&M Rainwater Calculator to estimate how much rainwater you could collect at your house.
Rainwater Revival
HCA is the proud host of the Rainwater Revival, a festive day held each Fall filled with informative and entertaining presentations by professionals and users of rainwater, water conservation-related business vendor booths, rainwater system displays, and plenty of experts to provide guidance and services; as well as food booths, shopping, live music, plus much more! http://www.rainwaterrevival.com
Rainwater Revival Presentations: View presentations from previous Rainwater Revival events
Recent Rainwater Harvesting News
Even though there hasn't been a consistent amount of rain in Central Texas for the last few months, one local business said many people are turning to them for rainwater collection tanks. It is in such high demand, one farmer is on a months-long wait list to get one....
read more