Celebrating Aldo Leopold's 129th Birthday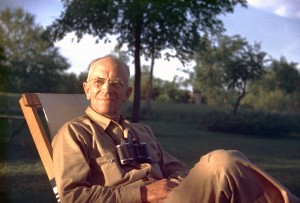 January 11 … It's the birthday of writer and ecologist Aldo Leopold (books by this author), born in Burlington, Iowa (1887). Aldo grew up in a big, prosperous family, and lived on a 300-acre estate with a lot of his relatives. The whole family spoke German together and worked in the gardens and orchards, where he learned about plants and soil. He went hunting with his dad and bird-watching with his grandfather.
While he was studying at Yale, he practiced writing by composing long letters home. Theodore Roosevelt created the U.S. Forest Service in 1901, and a few years after that, Leopold finished his master's degree and joined the Forest Service. He worked on surveying and drawing maps.
When he was in his 20s, he was caught in a storm out in the wilderness and he ended up with kidney disease. For the rest of his life, he had bouts of poor health. And it was during these bouts that he began to write. He wrote Game and Fish Handbook (1915) and Game Management (1933), about wildlife conservation. After 19 years in the Forest Service, he became the Professor of Game Management at the University of Wisconsin-Madison, and bought a piece of land on the Wisconsin River. And it was there, at his home in Wisconsin, that he wrote many of the essays for which he is now famous.
He tried to publish a collection of his essays, but for seven years his manuscript was rejected. He kept reworking the essays, and finally, when he was 60 years old, he got the news that his book was going to be published. One week later, a neighbor's trash fire got out of control, and Leopold was afraid that it might spread to his farm, so he went out to help fight the fire. Suddenly, he lay down on the grass and died of a heart attack. Leopold's children spent the next months putting the book together, and in 1949 The Sand County Almanac: And Sketches Here and There was published. The book, the defining and most quoted ethic of which is "A thing is right when it tends to preserve the integrity, stability, and beauty of the biotic community. It is wrong when it tends otherwise," helped shape the ecological movement. Although it went largely unnoticed for over 20 years, a paperback edition became a surprise best-seller when it was republished in the environmental awakening of 1970s. It continues to be one of the world's best-selling natural history books.
Aldo Leopold wrote, "Harmony with land is like harmony with a friend; you cannot cherish his right hand and chop off his left."
From The Writer's Almanac: http://writersalmanac.publicradio.org/index.php?date=2011/01/11