Directors Notes – September 2017
For those of us who work to protect quality of life, it was especially heartbreaking to see the devastation caused by Hurricane Harvey in the Gulf Coast Region last month. We almost certainly have not seen the end of the impacts of this storm, as stories of water contamination, long-term subsidence, and challenges to ranchers' way of life continue to play out.
The impact of Hurricane Harvey will be far-reaching and long lasting. As our community works together to rebuild and protect our way of life, please check out these opportunities to help those in need during this trying time.
Natural disasters remind us how crucial it is to cultivate leaders in our community. Five years ago, the Hill Country Alliance held its first leadership summit to empower leaders across Texas by sharing their passion to preserve and protect this special region within the Lone Star state.
Don't miss this year's Annual HCA Leadership Summit on September 21 at Camp Lucy in Dripping Springs. The HCA Leadership Summit Committee, led by board members Francine Romero and Kathleen Krueger, has put together a great program with a central theme of telling the shared story of the Texas Hill Country:
Our first presentation will feature Jim Blackburn, a Rice University professor and founder of the Trinity Springs Edwards Aquifer Protection Association (TESPA), who has written extensively on why the Texas Coast must move forward with a more thoughtful model of growth. Jim will be discussing the critical importance of protecting groundwater resources to ensure the long-term health of our springs, creeks, and rivers in the Hill Country.
Our keynote address will be from Betty Sue Flowers, former director of the LBJ Presidential Library. Betty Sue will reflect on her experiences working around the world on difficult challenges, and how scenario planning and stories can be used to bring opposing parties together to identify a shared solution.
Other topics include night sky protections, the importance of the Hill Country for Monarch butterfly populations, and the story of the Blanco River. Space for our Leadership Summit is limited. Don't forget to register online to save your place – we hope you can join us.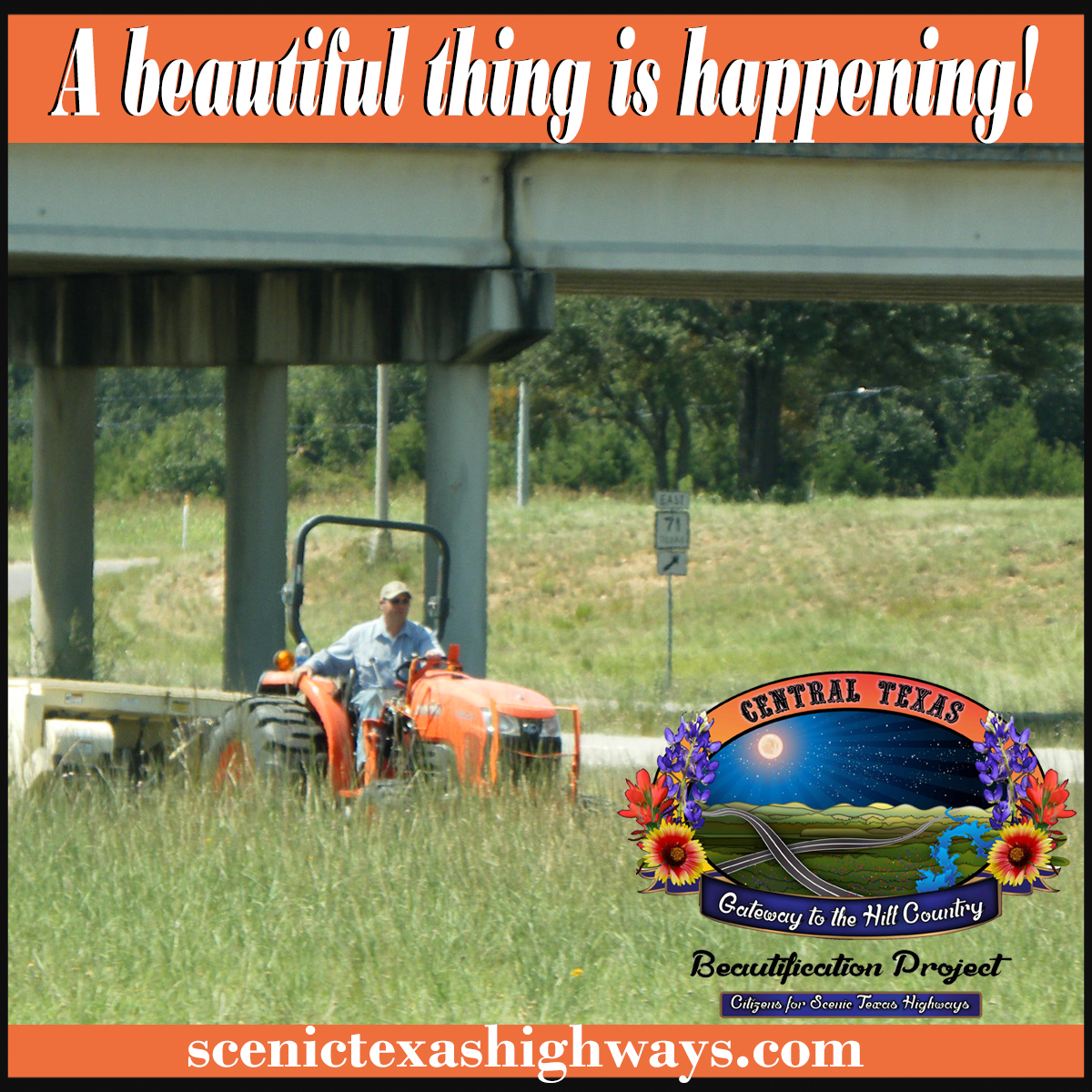 New to the Director's Notes this month is our Partner Spotlight, in which we feature the work of a stellar partner organization, individual, business or agency who is working hard to create a vision for a Hill Country we can all get behind. This month's Spotlight goes to the Gateway to the Hill Country Beautification Project: a volunteer-driven effort to plant wildflowers and maintain a native prairie at the intersection of US Highway 281 and Texas Highway 71, just south of Marble Falls. They are also getting involved in opposing a rock crushing operation that has submitted a permit application with the TCEQ. Learn more about their work, get involved as a volunteer, or donate at www.scenictexashighways.com.
Check our event calendar to learn more about the Leadership Summit, our 2017 Wild & Scenic Film Festival (making its Hill Country debut on September 28 in Kerrville), and of course our Rainwater Revival + Hill Country Living Festival!
Thank you for your continued support,
Katherine
2016 HCA Leadership Summit