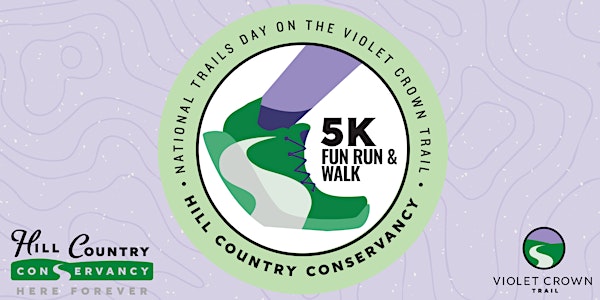 Lace up your shoes for the 4th annual National Trails Day fun run on the Violet Crown Trail!
Join Hill Country Conservancy for the fourth annual fun run on National Trails Day! National Trails Day is a nationwide event held to encourage people to discover their local trails and celebrate spending time outdoors, and what better way to celebrate than enjoying the Violet Crown Trail.
You can choose between a 5k or 1mi route. Both routes begin at Dick Nichols Park in South Austin. The 5k route follows the Violet Crown Trail to the Dick Nichols Trailhead at Latta Drive and the Deer Park Trailhead at Davis Lane. The route highlights the interconnectivity of the trail between neighborhoods, peaceful wooded areas, convenient urban amenities, and neighborhood parks.
After the run, stick around and celebrate with them at the finish line party! they'll have tacos and coffee and live music by Will Dupuy.