Austin – LCRA Water Quality Advisory Committee Meeting
March 24, 2020 @ 9:00 am

-

1:00 pm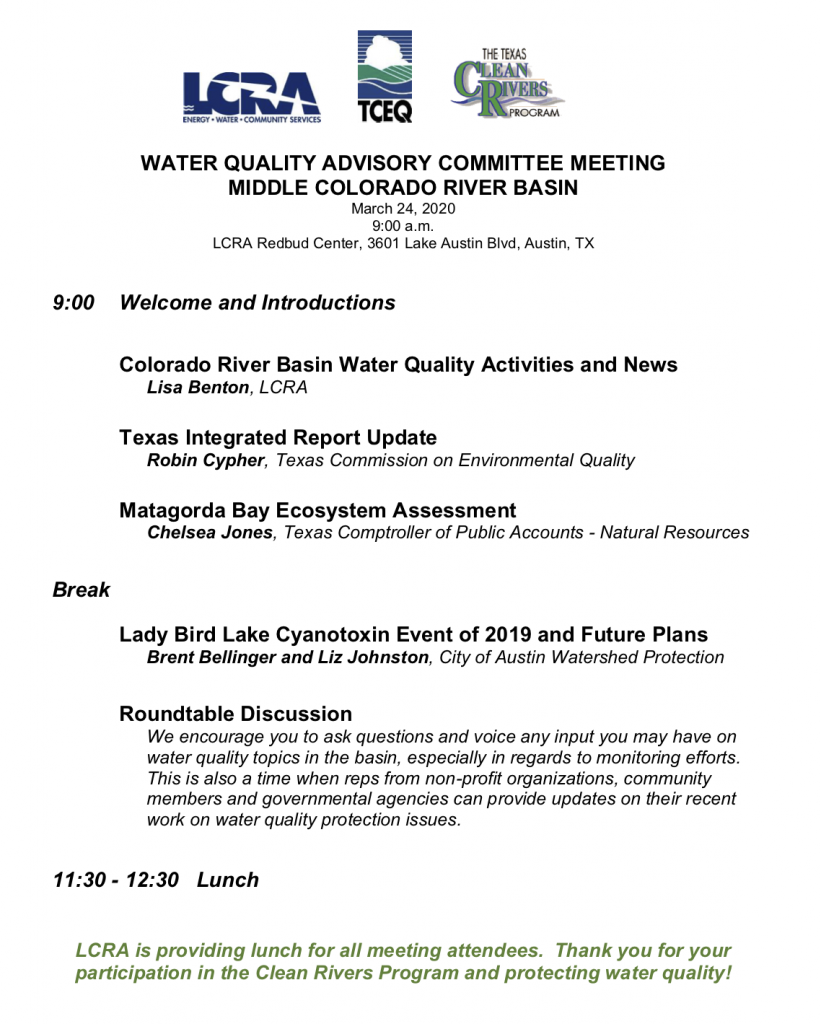 The LCRA Water Quality Advisory Committee for the middle part of the Colorado River basin will meet at 9:00 a.m. on Tuesday, March 24, 2020 at the Redbud Center (3601 Lake Austin Blvd, Room 108) in Austin.
If you plan on coming, please let us know by clicking here to RSVP. LCRA will be providing lunch (gluten-free and vegan options) to all meeting participants. Thanks to all of you who have already RSVPed!
The agenda for this meeting is attached. During the morning update presentation, we will highlight a variety of water quality related activities that have occurred in the basin throughout the past year (including all of the items that were mentioned in your RSVP survey responses). The Roundtable Discussion will be a time when stakeholders can voice questions/opinions/comments to the group about any of these topics or others that come to mind. We will likely continue the roundtable discussion through lunch.
Please stay tuned for information about a lower basin Water Quality Advisory Committee meeting that will be held in Columbus in May.
All who are interested in water quality in the Colorado River basin are welcome- these are public meetings. Please contact Lisa Benton with the LCRA Clean Rivers Program – lisa.benton@lcra.org – with any questions.