Blanco – 2022 Texas Marigold Festival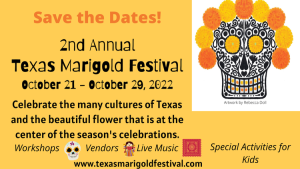 The 2nd Annual Texas Marigold Festival will take place in beautiful Blanco, Texas. October 22 – 29, this home-town festival will get you in the spirit of the season. Movies, music, vendors market and lots of fun things for the kids to do! Take in a workshop or just stroll the market. We invite you to Blanco for a visit during one of the most lovely times of year. Filled with the visual displays of so, so many amazing marigolds.
The Festival will be happening at various locations in and around Blanco Texas.
Learn more at https://www.texasmarigoldfestival.com/