Canyon Lake – Nonpartisan Local Candidates Forum
October 17, 2018 @ 6:00 pm

-

8:00 pm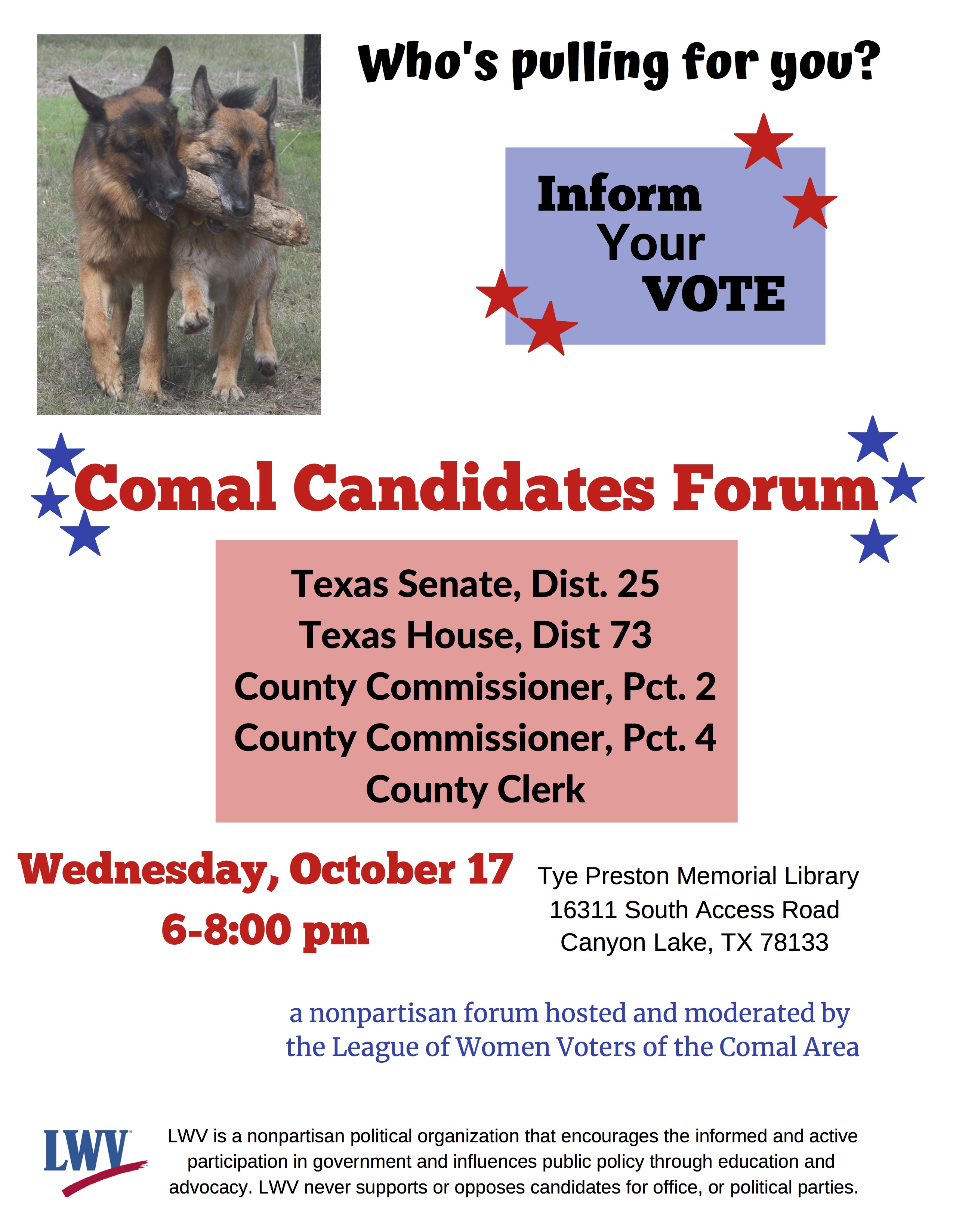 Contact: Robin Engel, robin.ruth.engel@gmail.com, 830-302-0102 Nonpartisan Local Candidates Forum Scheduled
Looking for more information about your local candidates in the Nov. 6 elections? The public is invited to a nonpartisan Comal Candidates Forum hosted and moderated by the League of Women Voters of the Comal Area (LWV-CA) Oct. 17 from 6 to 8:00 p.m. at the Tye Preston Memorial Library, 16311 S. Access Rd., Canyon Lake, TX 78133. Candidates for Texas Senate, Dist. 25; Texas House, Dist. 73;County Commissioner, Pct. 2, County Commissioner, Pct. 4; and County Clerk have been invited to introduce themselves and answer questions from the audience.
Nonpartisan information about state and local candidates and their positions will be available in the LWV- CA Voters Guide to be distributed in partnership with the Herald-Zeitung Oct. 16 and online at www.lwvcomal.org and www.Vote411.org and at local libraries. Texas voters can also text LWVTX to 80123 to receive nonpartisan voting reminders on their phones.
For more information about LWV-CA, visit www.lwvcomal.org or https://www.facebook.com/
LWVComalTX . The League of Women Voters is a nonpartisan political organization that encourages the informed and active participation in government and influences public policy through education and advocacy. LWV never supports or opposes candidates for office, or political parties.