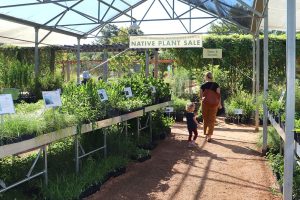 Fall Native Plant Sale
Lady Bird Johnson Wildflower Center
4801 La Crosse Ave. | Austin, TX 78739
Fridays – Sundays, Sept. 30 – Oct. 30
9 a.m. – 1 p.m.
Entry fee: varies – included with general admission
The Lady Bird Johnson Wildflower Center Fall Native Plant Sale features a variety of Texas natives, including perennial and annual flowers, grasses, vines, shrubs and trees for shady and sunny gardens. Native plants conserve water; lower mowing costs; provide habitat for birds, butterflies and other wildlife; protect and enrich soil; and reduce the use of fertilizer and pesticides. Plus, they're beautiful!
Prices (credit cards only)
General 4-inch pots: $3
Cacti 4-inch pots: $5
Milkweed 4-inch pots: $5
General 1-gallon pots: $9
Milkweed 1-gallon pots: $12
Most 5-gallon pots: $27
Select specialty and miscellaneous plants will be priced as marked. Read more at wildflower.org/plant-sales