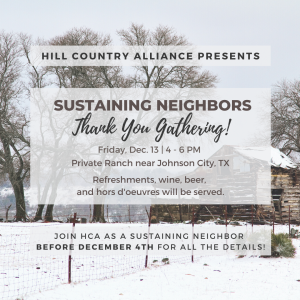 Join the Hill Country Alliance for a year end celebration of our supporters!
For all the details, become a Sustaining Neighbor for the Hill Country Alliance. Sustaining Neighbors support HCA by giving on a monthly basis and ensuring a steady, reliable funding stream for our work. You can become a Sustaining Neighbor by donating to the Hill Country Alliance and selecting the "Recurring contribution" option under "Donation Amount."
Information regarding this year end celebration will be distributed to all Sustaining Neighbors via email following the December 3rd deadline.
Click here to become a sustaining neighbor and join the fun!