New Braunfels – Texas Drought – The new normal? – CCCA Community Program
November 9, 2022 @ 6:00 pm

-

7:30 pm

Free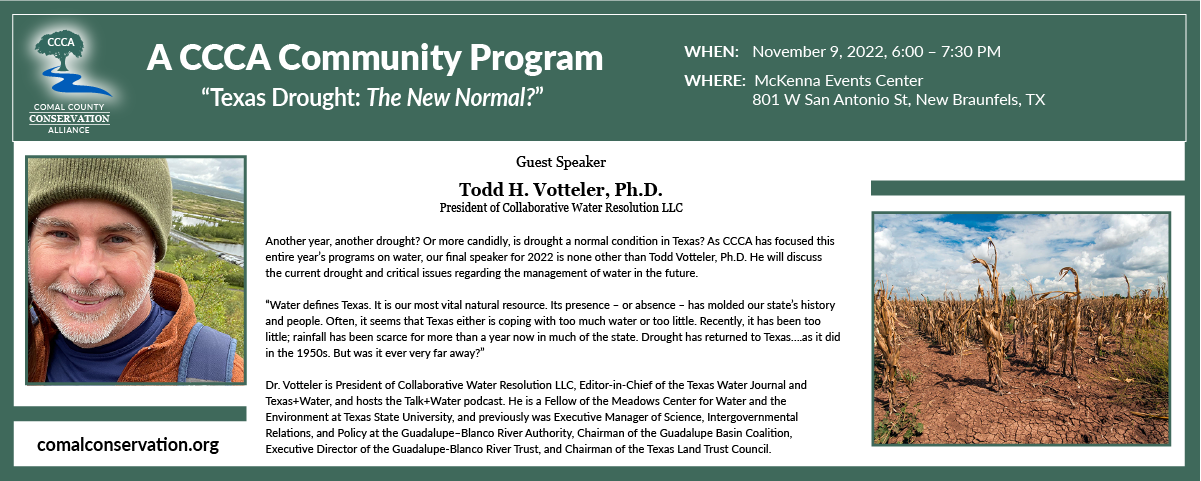 Another year, another drought? Or more candidly, is drought a normal condition in Texas? As CCCA has focused this entire year's programs on water, our final speaker for 2022 is none other than Todd Votteler, Ph.D. He will discuss the current drought and critical issues regarding the management of water in the future.
"Water defines Texas. It is our most vital natural resource. Its presence – or absence – has molded our state's history and people. Often, it seems that Texas either is coping with too much water or too little. Recently, it has been too little; rainfall has been scarce for more than a year now in much of the state. Drought has returned to Texas….as it did in the 1950's. But was it ever very far away?"
Dr. Votteler is President of Collaborative Water Resolution LLC, Editor-in-Chief of the Texas Water Journal and Texas+Water, and hosts the Talk+Water podcast.