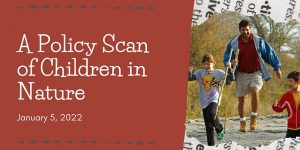 A webinar with Rosa Yin, a student at the University of Texas in Public Policy
About this event
Policies, especially local and state, have great influence over our day to day lives. To understand the specific influences policies play in a particular topic area, policy scans are useful tools for developing thorough understandings. This presentation's policy scan analyzed the City of Austin's municipal policies and programs to assess whether nature is equitable and accessible for children throughout the city. This session will discuss methods and results of the Austin policy scan to provide participants with a helpful guide to conducting their own policy scans that can evaluate access to nature.
Workshop is offered twice on January 5th, 2:00 and 7:00 Central
A zoom link for the webinar will be emailed to registrants the day of the event. If you have not seen an email come through please check your spam folder.  
To learn more and register for a time slot, click here.