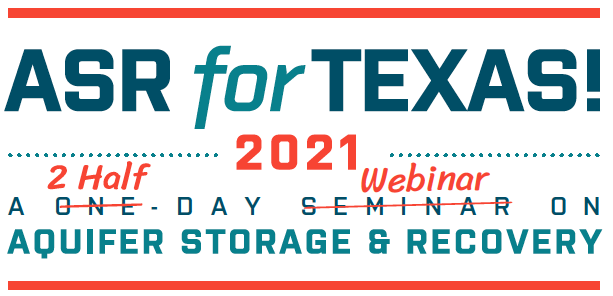 This innovative water management technology is changing the water storage and supply paradigm in Texas. ASR allows for water to be stored underground in times of plenty—then retrieved for beneficial use in times of drought. Expanding the use of underground storage will help meet the water demands of Texas' growing population, especially in the face of drought and climate change.
Click here to see the TWDB map of Aquifer Storage and Recovery in Texas.
Who should attend this two-half-day seminar?
Municipal water planners, water utility directors and staff, water management districts, regional water planning groups, groundwater conservation districts, river authorities, potential ASR project sponsors, water supply visionaries, and anyone looking for resilient water supplies for today – and for the future of Texas.
Dates/Day/Time
May 4, Tuesday                 8:30 am to Noon
May 5, Wednesday          8:30 am to Noon
May 5, Wednesday 
8:30 am                 Welcome comments
8:40 am                 Introduction to ASR for Texas
9:30 am                 ASR & Regional Water Planning
9:40 am                 HB-721 and the ASR Suitability Survey
9:50 am                 ASR Across Texas (panel)
10:30 am               Austin's Water Forward Plan & ASR Project
11 am                     Provo, Utah, from Planning to Pilot to a Final MAR Program
11:30 am               Closing comments
Noon                      Adjourn
Registration Cost (covers both days)
$75/person
Full refunds up to 15 days before event.