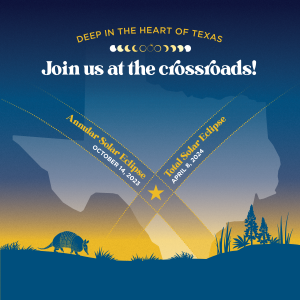 During the last total solar eclipse event in the U.S., back in 2017, many rural communities in its path were overwhelmed by the crowds and the challenges they created for local infrastructure, emergency services, lodging and restaurants, and supermarkets. However, the communities that fared the best were those that started preparing years in advance. On October 14 of this year and April 8 of 2024, the annular and total solar eclipses will pass through the middle of the Hill Country, affecting all our communities.
For the past two and a half years, the Hill Country Alliance has been convening quarterly round table meetings of the Hill Country Eclipse Team. These meetings are opportunities for residents, eclipse enthusiasts, business owners, and community leaders to share regional planning updates. The meetings have included presentations by subject matter experts on related topics.
The Hill Country Eclipse Lunch and Learn sessions are an opportunity to discuss individual niche topics specific to eclipse planning and preparations. Topics will include everything from accessibility and community preparation to public relations and security.
The Eclipse Lunch & Learn Sessions take place on the 2nd and 4th Tuesdays of the month via Zoom from 12:00 p.m. – 1:00 p.m. CST.
Register here for the complete series and attend the sessions at your leisure. Each Lunch and Learn will be recorded and posted to the HCA Eclipse Portal.
Eric Maloney, Fire Chief for the City of Kerrville, will be the featured subject matter expert for this Lunch and Learn session on Safety and Security.