Online – International Observe the Moon Night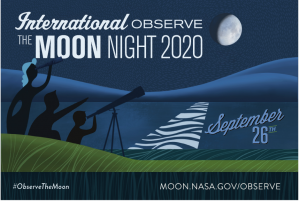 International Observe the Moon Night is a time to come together with fellow Moon enthusiasts and curious people worldwide. Everyone on Earth is invited to learn about lunar science and exploration, take part in celestial observations, and honor cultural and personal connections to the Moon. Note that we encourage you to interpret "observe" broadly.
Were you planning to host an in-person event this year? Try hosting a virtual one. Registration for International Observe the Moon Night is now open. Registering as an observer or event host officially marks your participation and connects you with our community around the world. We now have registration options for individual observers, private or household participation, and public events. Let us know how and where you are celebrating so we can add you to the global map.
International Observe the Moon Night occurs annually in September or October, when the Moon is around first quarter ― a great phase for evening observing. Furthermore, a first-quarter Moon offers excellent viewing opportunities along the terminator (the line between night and day), where shadows enhance the Moon's cratered landscape.
You can join International Observe the Moon Night from wherever you are. Attend or host a virtual or in-person event, or observe the Moon from home. Connect with fellow lunar enthusiasts around the world through our Facebook page, #ObserveTheMoon on your preferred social media platform, and join the International Observe the Moon Night Flickr group. Outdoors, at home, online, or wherever you may be, we're glad to have you with us. However you choose to observe, please follow local guidelines on health and safety.