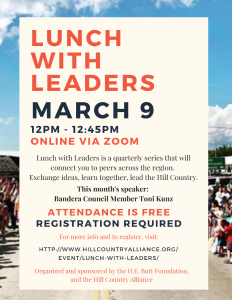 Join us for Lunch with Leaders, a quarterly series to connect leaders in the rural Hill Country with one another to identify common challenges, share solutions, and pursue opportunities for our region.
Our second session, 12pm on March 9th, will include an interview of Toni Kunz, Council Member for the City of Bandera. She will be interviewed by Judge Cynthia Casburn, Municipal Judge for the City of Sabinal.
Council Member Kunz will discuss how Bandera is navigating new development within the constraints of the city's small footprint and with respect for the city's unique history and character.
This free event will take place on Zoom. The link will be emailed to everyone who registers prior to the event.