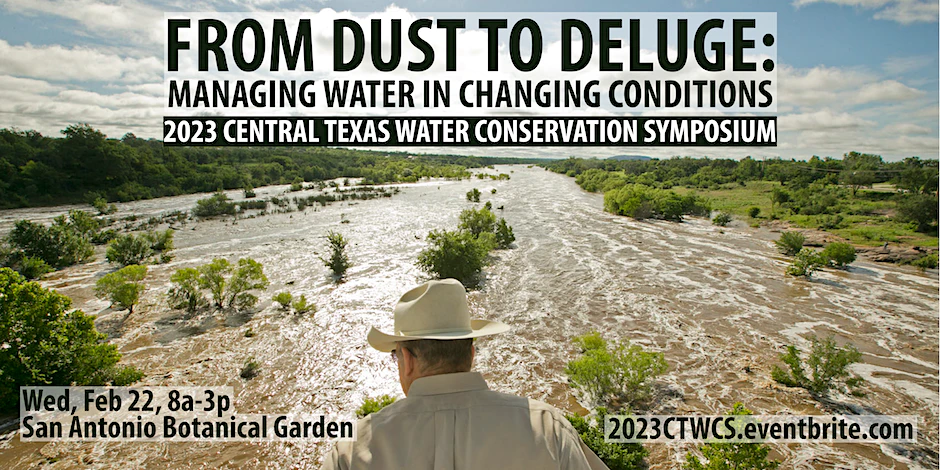 The Central Texas Water Conservation Symposium provides water utilities with the information needed to implement successful water conservation programs, effectively engage customers, and plan for the future. Learn from state and national experts about the latest approaches, what is coming next and best practices for maximum efficiency gains.
Plus, stay a day longer for a BONUS event: join San Antonio Water System (SAWS) on Feb 23 for The Rain to Drain Experience, a fully immersive expedition to learn about the source of San Antonio drinking water and where it goes, well, "after the flush."
Click here to register
Program Theme: From Dust to Deluge: Managing Water in Changing Conditions
Program Highlights:
Planning for and Responding to Drought: Conservation Strategies, Forecasts, and Trends
Long range drought/surface water supply forecast, Bob Rose, LCRA
GPCD trends drought vs non-drought periods, Karen Guz, SAWS
New Braunfels Drought Mitigation Strategies: Summer 2022, Andrew Cummings, New Braunfels Utilities
Water Loss in Texas: How much water is being lost and how communities are approaching solutions
Hidden Reservoirs: Quantifying Water Loss in Texas, Alan Wyatt, Independent Consultant
SAWS water loss data analysis case study, Patrick Shriver, SAWS
AMI implementation and data analysis: Leveraging your AMI data whether your program has just started or is well established programs with mountains of information.
Unique ways to use AMI data, Christopher Tull, California Data Collaborative
AMI data use in ATX, Jonathan Orenstein, City of Austin
AMI integration and customer outreach, Brandon Pritchett, City of Pflugerville
Texas Runs on Water – Building Water Knowledge
Deep in the Heart: Communicating Water Conservation through Film