San Antonio – TXSER 23rd Annual Conference
November 9, 2018

-

November 11, 2018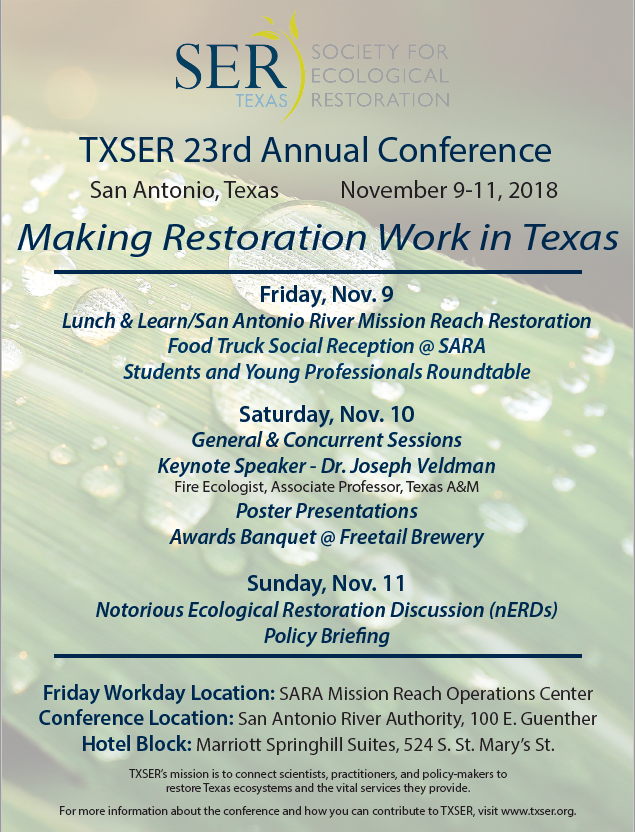 Hill Country highlights from the agenda include:
Thomas Arsuffi, Director of the Texas Tech University Llano River Field Station in Junction, will share a presentation titled "Healthy Watershed Approach To Managing Streams in a Dynamic World for Resistance, Resiliency and Restoration: Role of Science, Stakeholders, Education and Partnerships." It will detail the development and implementation of a Watershed Protection Plan for the Upper Llano watershed.

Hill Country landowner David Davidson will present "The Art & Science of KR Bluestem Restoration," detailing his successes in restoring native grasslands.

The Nature Conservancy will share a presentation about population and habitat changes in the black-capped vireo, one of the Hill Country's endangered (until recently) bird species.

Two presentations about restoration on the Mission Reach of the San Antonio River from our partners at San Antonio River Authority.

Several talks will touch on prescribed burning as a restoration tool.