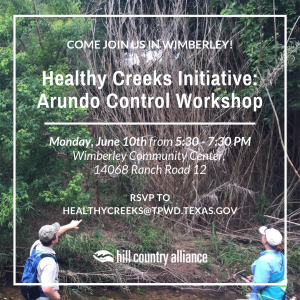 Since 2016, the Healthy Creeks Initiative has been working with landowners to control non-native, invasive Arundo plants (Giant Cane) at no cost to landowners. Over the past three years, more than 100 landowners have volunteered to participate in the HealthyCreeks Initiative to control Arundo in the Blanco River Basin using targeted, aquatic-approved herbicide application. This control method has the least impact on the stream ecosystem and is currently being provided at no cost to the landowners.
Our goal is to restore the diverse, healthy plant communities along the Blanco, Pedernales, Guadalupe, and Medina rivers and associated upstream creeks to reduce erosion and flooding, stabilize creek banks, and provide fish and wildlife habitat.
If you live along a creek or river, we hope you will join us. We'll be talking about things you can do to keep our creeks healthy, provide program updates, celebrate our successes, and answer questions.
RSVP by emailing here  or by calling 512-389-8750.