Thirteen area songwriters gathered on Friday, November 22 in the basement of Liz on the Square in Blanco to perform original songs for the "Deep in the Dark of Texas ™" songwriting contest, sponsored by the Blanco County Friends of the Night Sky.   The more than 70 attendees were treated to a real "Blanco Happening" as the mostly local performers wowed the audience with song after original song extolling the virtues of the night sky or lamenting the light pollution that threatens it.

Performing their songs were: Jim Geistfeld,
Starless Sky
; Chris Curbow
, Give Back the Sky
; Stacia Woods,
Dark Skies
; Melanie Van Aken,
Welcome in the Night
; Lina Hybner,
Always Look Up in the Stars
; Brenda Freed,
Dark Skies
; Rebecca Greathouse,
Night Sky Song
; Alan Cooper,
Prayer for the Night
; Stanton Rhyne,
The Artificial
; Dan Gilroy,
Look Up
; Nelson Broyal,
Stars Over Blanco Town
; and Ken Frederick,
Hill Country Night
. Caroline Welton, away at college, could not attend but sent her entry,
Stars Change
, via cell phone. Rebecca Henricks was also unable to attend but part of the group had previously heard her excellent song,
Dancing with the Stars
.
The Blanco County Friends of the Night Sky plans to compile the best of the songs onto a CD as a fund raiser.  The CD, to be cut at the Los Senderos Recording Studio located between Blanco and Johnson City, will be entitled,
Deep in the Dark of Texas ™, Vol 1.
---
Blanco County Friends of the Night Sky kicked off its inaugural "Deep in the Dark of Texas ™" essay contest at Blanco High School Friday, November 22nd.  Students learned they can win cash prizes for winning essays.
At the invitation of Blanco High School Principal Keitha St. Clair,Wayne Gosnell made presentations to all four grades in assemblies attended by the entire student body. Gosnell had assistance from a special guest: "The Wizard of the Night Sky" (aka Bob Heinonen).  Both presenters explained why it's important to preserve the Hill Country's starry skies by reducing light pollution. The presentations were well received by the youngsters who saw the positive impact simple and inexpensive changes to outdoor lighting can have on the night sky.
The essay contest is open to all Blanco High School students.  Students were asked to write a maximum two-page, double spaced essay relating to the night sky and/or night sky preservation. Essay entries are due December 18th. Winners will be announced in mid-January. First place is $100, 2nd place $75 & third place $50. Details about the essay contest and information on how to preserve Blanco's night sky can be found at
www.blancocountynightsky.org
.
---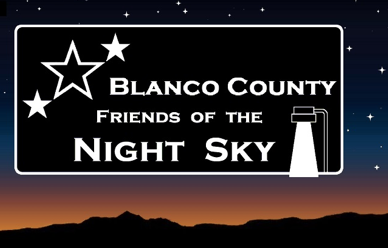 This featured article comes from two official press releases of the Blanco County Friends of the Night Sky, as published in the Blanco County News on November 27, 2019. Learn more about efforts Blanco County citizens are taking to preserve our precious Hill Country night skies here.