The Texas Drought is over, but what about the next?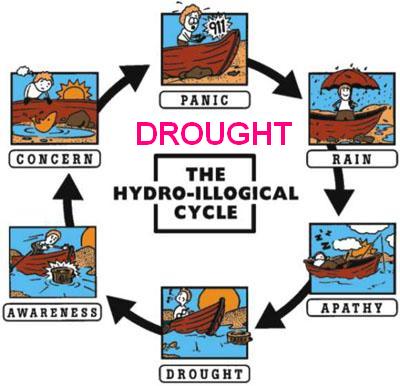 The drought that just ended (in all but a small corner of the Texas Panhandle, according to the latest U.S. Drought Monitor) made Texans aware of the importance of a reliable water supply, for themselves and for the state's economy. The Texas Legislature in 2013 backed up the State Water Plan with a mechanism for new project funding, including conservation, and the electorate concurred.
That well-placed concern, and in some cases panic, about reliable water has been displaced by rain. The hydrological cycle has evaporated water from the Atlantic Ocean, brought it over Texas and dropped it to the ground as raindrops. The water has been absorbed into the soil or is making its way back to the Gulf of Mexico, soon to be evaporated again.
What happens next depends on whether Texas chooses to follow the so-called hydro-illogical cycle. Will the recent rain lead to apathy and disregard for the need to prepare for the next drought? Will the next drought sneak up on us, too late for us to conserve the water that was here when things were wet? Read the full article from TribTalk