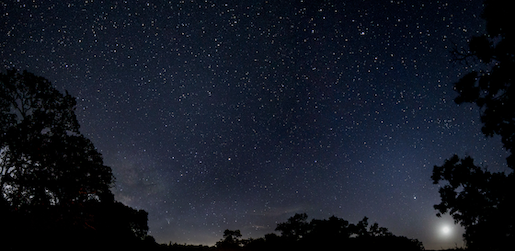 Explore Shield Ranch after sunset and learn about the night sky with Hill Country Alliance educator Dawn Davies!
The dark sky is a unique treasure of the Hill Country and dusk is a special time to experience wildlife, many of which begin to emerge as the sun goes down. Walk on camp trails and observe the sights and sounds along the way to our Star Party. As the sun sets, we'll watch stars, planets and more using a telescope. On Nov.19, the moon will not be up in the night sky, and we will have Jupiter, Saturn, Uranus and Neptune up in the evening. Learn the connections, stories and history of these planets, identify constellations, ask questions and simply stargaze.
Warm snacks and refreshments by Chef Addie are included with ticket. Guests who register will be sent more details about arrival and what to bring. Perfect for outdoor enthusiasts, astronomy curious, adults and families with youth 8+.
Cost: $12 adults, $10 youth (under 18).