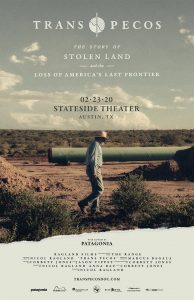 Join us for the premier of TRANS PECOS: The Story of Stolen Land and the Loss of America's Last Frontier.
This documentary sets out to uncover the truth of the controversial Trans Pecos Pipeline while creating a poetic portrait of Far West Texas and the American people whose lives and land the pipeline has affected. The story is woven of a diverse fabric of an insider, landowners, concerned citizens of different colors, classes and creeds – some of which come from the oil and gas industry itself.
TRANS PECOS is a story about the unexpected bipartisan alliances that occur when companies place private gain before public good.
The grassroots support behind TRANS PECOS attempts to find common ground in a way that strengthens citizen engagement and civic bridges. It is a story of how one natural gas pipeline in Far West Texas can act as a conduit of change between informed citizens and those in power as the future of natural resources and energy is decided.
Panel discussion to include :
Renea Hicks, Attorney
Coyne Gibson, Big Bend Conservation Alliance
Jessica Karlsruher, TREAD Coalition
Nicol Ragland, 'Trans Pecos' Director
Moderated by Jim Bradbury, eminent domain attorney
Doors open at 4 PM, movie screening begins at 5 PM.