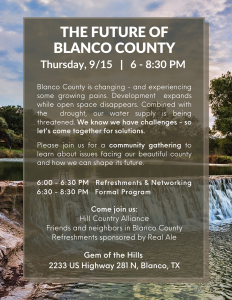 Blanco County is changing – and experiencing some growing pains. Development expands while open space disappears. Combined with the drought, our water supply is being threatened. We know we have challenges – so let's come together for solutions.
Please join us for a community gathering to learn about issues facing our beautiful county and how we can shape its future.
6:00 – 6:30 PM Refreshments & Networking
6:30 – 8:30 PM Formal Program
Come join us:
Hill Country Alliance
Friends and neighbors in Blanco County
Refreshments sponsored by Real Ale
Registration requested but not required. Click here to register!