New Braunfels – Protecting Land to Protect Water
September 21, 2022 @ 6:00 pm

-

7:30 pm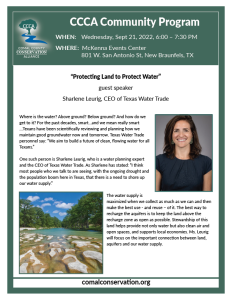 Where is the water?  Above ground?  Below ground? And how do we get to it? For the past decades, smart…and we mean really smart …Texans have been scientifically reviewing and planning how we maintain good groundwater now and tomorrow. Texas Water Trade personnel say: "We aim to build a future of clean, flowing water for all Texans".
One such person is Sharlene Leurig, who is a water planning expert and the CEO of Texas Water Trade. As Sharlene has stated: "I think most people who we talk to are seeing, with the ongoing drought and the population boom here in Texas, that there is a need to shore up our water supply."
The water supply is maximized when we collect as much as we can and then make the best use – and reuse – of it. The best way to recharge the aquifers is to keep the land above the recharge zone as open as possible. Stewardship of this land helps provide not only water but also clean air and open spaces, and supports local economies. Ms. Leurig will focus on the important connection between land, aquifers and our water supply.
Click here to learn more and join the Comal County Conservation Alliance for this event.