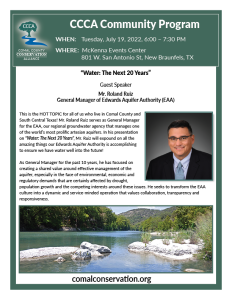 Join the Comal County Conservation Alliance for a community meeting featuring Roland Ruiz (Edwards Aquifer Authority).
This is the HOT TOPIC for all of us who live in Comal County and South Central Texas!  Mr. Roland Ruiz serves as General Manager for the EAA, our regional groundwater agency that manages one of the world's most prolific artesian aquifers. In his presentation on "Water: The next 20 Years",
Mr. Ruiz will expound on all the amazing things our Edwards Aquifer Authority is accomplishing to ensure we have water well into the future!
As General Manager for the past 10 years, he has focused on creating a shared value around effective management of the aquifer, especially in the face of environmental, economic and regulatory demands that are certainly affected by drought, population growth and the competing interests around these issues. He seeks to transform the EAA culture into a dynamic and service-minded operation that values collaboration, transparency and responsiveness.