Imagine a Day Without Water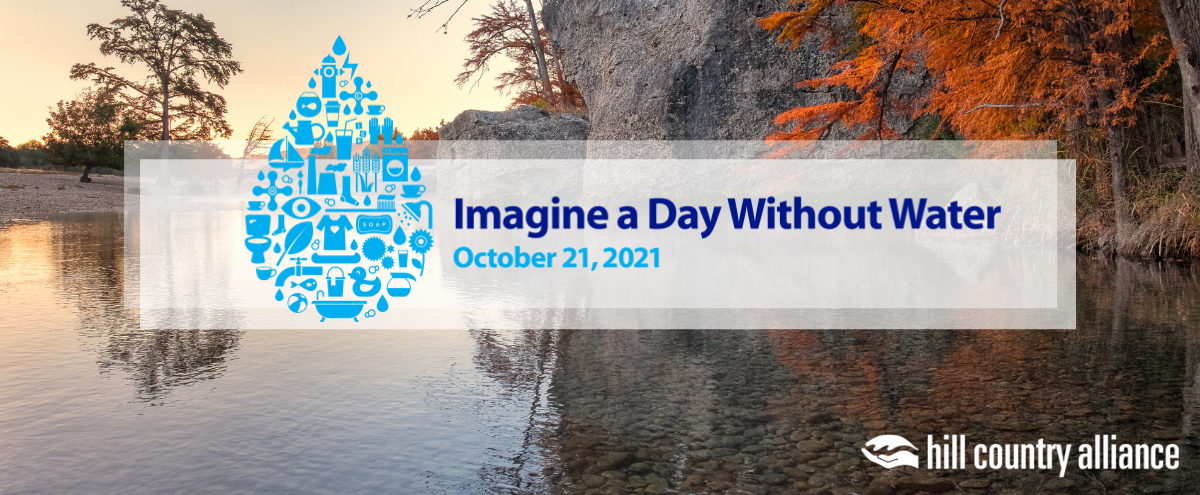 We say "Imagine a day without water," but in the future this could be a reality we face.
Did you know that the State Demographer estimates 250 people a day (yes, that's every day!) move to the Hill Country?  Would it surprise you that none of them are bringing their own water?
The 2022 State Water Plan projects a 73% population increase and a 9% water demand increase across the state over the next 50 years. At the same time, there is an 18% decline of existing water supplies. If we continue to follow business as usual, it will lead to far more people with a far smaller water supply.
In order to protect our economic vitality and unique ecology, HCA is working with partners across the region to ensure that future water deficits are met, while also protecting the Hill Country's unique natural resources.
Here are some other things in the works to ensure that future generations of Texans do not ever have to face a real day without water:
We ALSO rely on support from folks like you to make our work on the future of Texas water possible. You can support our efforts with a tax deductible donation. Donate today to help HCA's efforts to ensure the Hill Country stays clean, clear, and flowing with water for everyone to drink and enjoy – both for us and for our grandchildren.
One Water in the Texas Hill Country: Connecting Communities with Projects and Professionals
The Hill Country Alliance is working with National Wildlife Federation and partners to promote and educate on One Water throughout the Hill County. This guidebook, a joint project of our organizations, is intended to connect Hill Country communities facing growth and increased demands for water with water professionals experienced with One Water strategies, planning, implementation, design and construction.
We interviewed engineers, architects, planners and landscape designers to gain insight into the realities of One Water projects, and within these pages feature the 14 selected professionals along with an example project each completed in Texas. Finding and connecting with consultants who can be trusted with a community's most precious resource—its water—is a serious undertaking, and we hope this guidebook gives you a good place to start. Our organizations are committed to help you along the way as well.
Click the image to explore the Guidebook.
Click here to explore more resources and connect with One Water professionals. 
Austin American Statesman Op-ed: Unconscionable if lawmakers were to ignore water infrastructure
"Less than a year ago, at the end of a particularly vicious peak in the pandemic, half of Texas was without drinking water. Some neighborhoods went dry for weeks. COVID-19 in the aftermath of Winter Storm Uri was a public health emergency that should never be repeated. Yet this week, despite billions of federal funds available to fix the problem, the Texas Legislature could decide to turn a blind eye to the most essential of all health systems — our water infrastructure."
Click here to read the full article from Amanda Fuller with National Wildlife Federation
---
Ensuring One Water Delivers for Healthy Waterways: A Framework for Incorporating Healthy Waterways into One Water Plans and Projects
Our partners at the Texas Living Waters Project, build on their 2019 report on One Water planning and healthy waterways considerations. This new report presents a planning framework to assist communities in implementing the One Water approach in a way that optimizes water supplies to cities and keeps water flowing for the creeks, rivers, and bays that support healthy fish, wildlife, and their habitats.
Click the image to explore the Texas Living Waters Project report.
One Water Webinar: Exploring State and Local Water Innovations
Thursday, October 21 from 1:00 – 2:00 pm CDT. Click here to register.
This Imagine a Day Without Water, the US Water Alliance is hosting a One Water Webinar on state and local policies and programs that water leaders across the country report are making a difference in their communities. With an historical influx in infrastructure funding on the horizon, now is the time to spread how states and local actors are innovating around water to build more resilient water systems.
On Thursday, October 21—the seventh annual national day of education about the value of water—The Value of Water Campaign and the US Water Alliance are encouraging participants to hear from two One Water leaders doing just that. Paul Hunt of Portland Water District will discuss Maine's Sebago Clean Waters coalition which is leveraging funding for projects that promote water quality. Joone Lopez, General Manager of Moulton Niguel Water District, will share about the California Water Data Consortium, which advances data sharing and economic development.
October's One Water Webinar will also showcase a new tool released by the Alliance—the Recovering Stronger Knowledge Map—designed to help participants dive deeper into One Water projects in their regions and across the country. The Knowledge Map is a digital tool that plots One Water policies and programs geographically and provides key information about each of the plot points. Webinar attendees will be introduced to the Knowledge Map and will learn about the different ways to interact with the tool.
Imagine a Day Without Water is part of a national movement led by The Value of Water Campaign and supported by more than 1,000 organizations – including the Hill Country Alliance.
Imagine a Day Without Water began in 2015 as a project of The Value of Water Campaign. In 2018, more than 1,000 organizations signed up to participate in the annual day of advocacy and education. The Value of Water Campaign educates and inspires the nation about how water is essential, invaluable, and in need of investment. Spearheaded by top leaders in the water industry, the Value of Water Campaign is building public and political will for investment in America's water infrastructure. You can follow the conversation on social media at #ValueWater